Canadian nuclear commission gives the go-ahead to NRU reactor re-start
by
Brendon Nafziger
, DOTmed News Associate Editor | July 08, 2010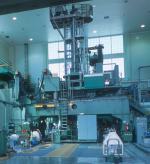 The Canadian Nuclear Safety Commission cleared Atomic Energy of Canada Limited to reload fuel into the National Research Universal reactor, meaning one of the world's most important suppliers of radioisotopes could soon be back online.

On Wednesday, the CNSC authorized the AECL to proceed with starting up the nearly half-century-old nuclear reactor, located in Chalk River, Ontario.

"[T]he Commission concludes that AECL is qualified to return the NRU to service and to carry on the activity authorized by the current license," the CNSC said in a document on the agency's website.

In a statement, the AECL said, "The approval received today marks an important milestone in the NRU return-to-service project."

The NRU reactor, down since last year to fix a heavy water leak in one of its vessels, accounted for nearly 40 percent of the world's supply of molybdenum-99, the parent isotope of technetium-99, used in many nuclear medicine studies. Nuclear medicine specialists have spent the spring and summer enduring a radioisotope shortage as both the NRU reactor and another isotope-making workhorse, the High Flux Reactor in Petten, Netherlands, were both offline undergoing repairs.

Repairs to the NRU reactor wrapped up in June, and the plant is expected to be back online by the end of this month, according to the AECL.