APIC: Computer systems help hospitals achieve best-practice infection control
by
Brendon Nafziger
, DOTmed News Associate Editor | July 13, 2010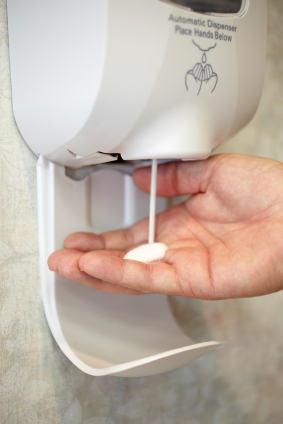 Hospitals that use infection-tracking computer technology are better able to meet research-based infection control guidelines, according to a new study.

A University of California telephone survey interviewing infection control specialists at hospitals throughout California found that health care centers relying on automated surveillance technology to keep tabs on hospital-acquired infections saw a significant boost in their ability meet anti-infection best practices, the study found.

"Our findings suggest that hospitals that use automated surveillance technology are able to put more HAI elimination strategies into place that will ultimately reduce the risk of infection," Helen Halpin, professor of health policy at University of California, Berkeley and the study's lead author, said in a statement.

The results, which the study authors caution don't actually indicate that the hospitals had fewer HAIs, were presented at the 37th Annual Conference and International Meeting of the Association for Professionals in Infection Control and Epidemiology, running July 11-15 in New Orleans.

In the study, carried out between October 2008 and January 2009, the authors conducted computer-assisted telephone interviews with quality directors at 241 general acute care hospitals in California, representing about 80 percent of all hospitals in the state.

While only one-third of the hospitals had adopted automatic surveillance technology, they saw significant improvements in setting up, enforcing and evaluating evidence-based infection control practices for the five targeted HAIs, the researchers said.

For instance, 85 percent of hospitals with the high-tech surveillance met infection-tracking guidelines for Methicillin resistant Staphylococcus Aureus infections, compared with 66 percent of hospitals using manual tracking methods. For ventilator-associated pneumonia, 96 percent of hospitals with computer-monitoring systems met the guidelines, against 88 percent of manual tracking hospitals, and for surgical care infection practices the breakdown was 91 percent against 82 percent.

The authors said that the surveillance technology, which collects data from different systems and could help researchers identify infection clusters, is more efficient and wastes less staff time than manual data-collecting methods.

"Conducting manual surveillance of hospital infections is costly and time consuming, often limiting educational and quality improvement efforts," wrote the researchers. "Our findings suggest that hospitals that use automated surveillance technology can achieve both greater depth and breadth in the implementation of evidenced based infection control practices. These advantages are enormous in an era where CMS will no longer pay for the additional costs attributable to specific HAI, and where more states are requiring hospitals to report HAI rates publicly."