The next level for ultrasound diagnostics: Shear Wave Elastography
November 08, 2010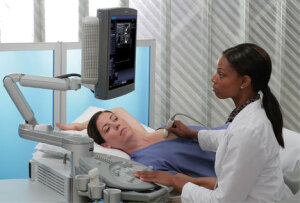 This report originally appeared in the November 2010 issue of DOTmed Business News
by Dr. David Cosgrove
Significant additional information to the ultrasound diagnostic process is being added through a new multi-wave ultrasound technology. This technology is being used to provide not only informative morphological B-mode images but also true tissue elasticity information, through a complementary imaging tool known as shear wave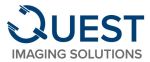 Quest Imaging Solutions provides all major brands of surgical c-arms (new and refurbished) and carries a large inventory for purchase or rent. With over 20 years in the medical equipment business we can help you fulfill your equipment needs

As shear waves travel through the body, they are altered by changes in tissue stiffness. If a shear wave passes through stiffer tissue, the propagation speed increases. The speed of the propagation of a shear wave in tissue is directly related to tissue elasticity (Young's Modulus.) By generating, capturing and computing shear wave propagation speed in tissue in real time, this technology can produce real-time, reproducible results of true tissue elasticity.
Tissue stiffness results add a crucial piece of information to the diagnostic evaluation as tissue elasticity relates to pathology. Today this technology is being used in the identification and classification of breast lesions, as well as in the thyroid, liver, kidneys and prostate.
Shear wave elastography versus strain elastography
Strain Elastography is used in conventional ultrasound elastography scanning. With this technique, a compression force (called stress) is used on a tissue and the degree to which the region distorts (known as strain) is assessed. In most cases, the transducer itself, compressing the tissue and moving it by a few millimeters can apply stress.
A number of methods are employed to track the movement of the tissue either by comparing single ultrasound lines (A-mode tracking) or by comparing the B-mode images before and after compression or continuously during repeated compression movements. Real-time elastography can be performed in two dimensions so that side-slip can be measured, as long as it remains within the scanned plane, which can be difficult to achieve.
Shear wave elastography on the other hand, is a very different technique. There is no compression of the tissue required as the transducer automatically generates the shear wave propagation. Instead of measuring tissue deformation, shear wave propagation speed is computed as the shear waves passes through the tissue. As shear wave propagation in tissue is computed, the true tissue elasticity of every point in a lesion is presented in a color-coded elasticity map. This technology is not only user-skill independent but also yields reproducible results that can be monitored over time.