For mammography, a new kind of house call
by
Brendon Nafziger
, DOTmed News Associate Editor | January 04, 2011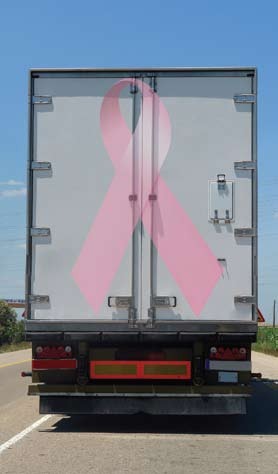 This report originally appeared in the December 2010 issue of DOTmed Business News

Six years ago, Swedish Medical Center, a sprawling hospital complex seated in Seattle's now-trendy Capitol Hill neighborhood, decided if women weren't coming to mammography, mammography would go to them. The hospital rolled out what it says is the world's first mobile digital mammography vehicle, which it uses in its outposts throughout Washington State.

"Swedish thought [pairing] digital, which was the newest and best technique, and the underserved population, was a perfect marriage," said Darlene Fanus, supervisor of the mobile mammography program with the hospital.

The 48-foot-trailer, made by Medical Coaches of Oneonta, N.Y., travels to centers affiliated with Swedish around rural Washington, where it offers complete women's care for those who otherwise might not receive it: pelvic and clinical breast exams and a Pap smear. A second coach was added to the fleet in 2008.

"Frankly, when we go out to these areas, we're the only health care these women have," Fanus said. "There's lots of poverty, domestic violence, methamphetamine use. That's our shining star, taking care of those women."

Swedish's mobile mammography program is only one of dozens of similar programs nationwide. There's a veritable mobile mammography boom. Vans, trailers and coaches travel the nation's roads, from Don and Sybil Harrington Breast Center's $654,000 Mobile Mammography Coach cruising the byways of the Texas Panhandle to The McLeod Mobile Mammography Unit stopping by local doctors' offices and even an ACE Hardware Store near Myrtle Beach, S.C.

And it's not just the United States. This fall, Kuwait welcomed the country's first mobile digital mammography unit, expected to travel throughout the country's six governorates. "This project is just the beginning," said Dr. Abdulrahman Al-Awadhi, chairman of the Kuwait Society for Preventing Smoking and Cancer, which held an event to greet the device's arrival, according to Kuwait Times.

But while growing in popularity and sometimes a lifesaver, literally, to the many women it helps, mobile mammography is not always perceived as the best option for everyone. "For women in remote, rural areas, mobile mammography is the only option. However, we would hope that women in urban settings would make the effort to be screened at a comprehensive, stationary facility to better ensure continuity of care, year after year," said Addie Backlund, executive director of the American-Italian Cancer Foundation, which manages a mobile, no-cost breast cancer screening program for underserved women.

You Must Be Logged In To Post A Comment
Registration is Free and Easy.
Enjoy the benefits of The World's Leading New & Used Medical Equipment Marketplace.
Register Now!