From the August 2011 issue of HealthCare Business News magazine
Going green
Fortunately, the economy has recently shown signs of making a turn around and so have sales of new medical sterilizers, notes Marie LaFrance, senior product manager for Steris Corp. "Customers are seeking the most productive, cost-effective sterilization equipment available," she explains.
Environmentally friendly options are important to customers, says LaFrance. This is especially true for large new construction projects where the facility is seeking LEED certification. LEED (Leadership in Energy and Environmental Design) is an internationally recognized green building certification system developed by the U.S. Green Building Council .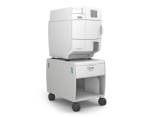 The market for service contracts has, consequently, continued strong, notes GIA. In fact, the report notes that "the ability to offer the lowest service rates spells success."
While sales of traditional, full-service contracts continue to be strong, some hospitals are opting to take their servicing in-house. "New, customizable service offerings are now being made available, often on a non-contract basis, to provide as little or as much assistance as in-house biomed departments may need or have the budget to support," says Laura Mather, director of service marketing with Steris.
"We have seen an increase in PM [preventive maintenance] contracts over the past year or two," says Moore, noting a healthy portion of SPBS' business comes from these service contracts. Hospitals used to take a full-service contract as a matter of routine with every sterilizer. But these days, to save money, many are opting just for twice-annual preventive maintenance programs. These programs typically cut down on repairs significantly and can be a good investment.
Some companies are even developing new types of service contracts. "Specialty services such as utility savings offerings and chamber cleaning services remain viable ways of maximizing the useful life of existing capital equipment," adds Steris' Mather.
Low-temp sterilizers are hot
"When we looked for a low-heat sterilizer, we followed all the standards in the Association of Operating Room Nurses," says Nancy Boyd , administrator of Crane Creek Surgery Center in Melbourne, Fla. "Some of our equipment couldn't go through a steam sterilizer," she says. "It couldn't withstand 217 degrees. So we'd have to put those materials through at a lower temperature."