by
Joanna Padovano
, Reporter | October 05, 2011
From the October 2011 issue of HealthCare Business News magazine
Cancer is a word no one ever wants to hear a doctor say to them or a loved one. Yet, the harsh reality is that many people will hear it at some point. More than 1.5 million new cases of cancer will be diagnosed in the United States this year, according to the American Cancer Society. Following heart disease, cancer is the second leading cause of death in the nation and is expected to kill nearly 572,000 Americans in 2011.
Despite such discouraging statistics, there is still hope for victims of the devastating disease thanks to progress that has been made in the field of radiation therapy, a treatment that is received by approximately 50 percent of cancer patients.

Quest Imaging Solutions provides all major brands of surgical c-arms (new and refurbished) and carries a large inventory for purchase or rent. With over 20 years in the medical equipment business we can help you fulfill your equipment needs

The status of the sector
The global radiation therapy devices market—the majority of which includes external beam radiotherapy equipment and treatment-planning systems—was valued at around $2 billion in 2010. The United States was responsible for 30 to 40 percent of that amount, says Akanksha Jain, a GlobalData senior analyst who contributed to the marketing report "Radiation Therapy Devices - Global Opportunity Assessment, Competitive Landscape and Market Forecasts to 2017," published in March 2011.
Jain mentions that the radiation therapy devices sector has grown, primarily from replacement sales. "A lot of the cancer centers and institutes are looking at replacing their old, outdated technology with newer devices and newer equipment which perform better and give a better ROI," she says.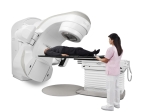 Technological trends
"If you look at [radiation therapy] technology, it's grown by leaps and bounds in the past 10 years," says Jain.
One of the biggest ongoing trends in the sector has been image-guided radiation therapy, which enables radiation oncologists to pinpoint exactly where a tumor is immediately prior to the delivery of radiation. This helps to minimize the amount of healthy tissue damaged during treatment.
In the past, imaging was a separate process, but advancements in technology over the last decade now allow a patient to be imaged at the exact time of treatment. "That means that you can be more accurate not only in terms of how you set up the patient, and how you can point the beam to the tumor just as the patient has gotten onto the treatment table, but it also means that during the treatment itself, you can monitor the position of the lesion," explains Dr. Joel Goldwein, senior vice president of medical affairs for Elekta.