On the last day of the ECR I heard the news that
Varian Medical Systems is purchasing InfiMed
. This was a hot topic at the show and not a surprise to me. You can
read about this in more detail in our online news
but my first reaction is that 1+1=3 because this makes it possible for Varian to supply tubes, detectors and viewing workstations with software.
I also met with Dan Trott at Dell and he described the Dell Unified Clinical Archiving solution. Dell will take any image and convert it so it can be stored and viewed on just about any platform. Dell stores images on the cloud but keeps the last 90 days on site. For instance, if the software knows John Smith is scheduled for tomorrow it downloads the images in advance to save time. On our online news today we have a story about
this interesting product
.

Quest Imaging Solutions provides all major brands of surgical c-arms (new and refurbished) and carries a large inventory for purchase or rent. With over 20 years in the medical equipment business we can help you fulfill your equipment needs

IAMERS reception, other friends
Overall, it was a busy show, and every day I met with lots of old colleagues and deal-hardened veterans of the business.
I saw AllParts CEO Steve Cannon several times, but each time he was stuck in a conversation. Finally, I was able to catch up with him at the IAMERS reception, held Saturday night at the Grand Hotel Vienna. Steve told me he has his eye on Europe as a growing market for parts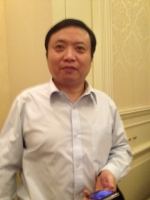 Jack Chen, from Sunnco International, was also at the IAMERS party. Jack told me about a new facility he is building in south China. He also said that the market for medical equipment in China is growing.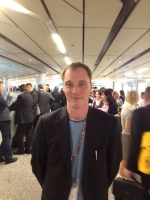 Fellow IAMERS member and Agito Medical founder Anders Fage Jensen had a busy booth, but we still managed to speak several times. Anders showed me a photo of a modular building he designed and told me about his new mobile CT and mobile MRI division. We will tell you more about that in the coming days.
Phil is a member of AHRA, HFMA, AAMI and the Cryogenic Society of America. He has contributed to a number of magazines and journals and has addressed trade groups.
Phil's proudest achievement is that he has been happily married to his wife Barbara since 1989, who helped him found DOTmed in 1998.