JAMA: Choppers save lives
by
Brendon Nafziger
, DOTmed News Associate Editor | April 17, 2012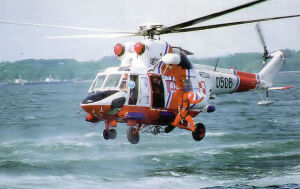 Transporting trauma victims by helicopter to the hospital is expensive, but it probably saves lives, according to a new study. However, it's unclear whether the benefits come from the speed of the transport or the expertise of the elite crews who man the choppers.

The analysis, published in the April 18 issue of the Journal of the American Medical Association, found that patients transported by air had 16 percent higher odds of survival than those driven by ground vehicles.

Trauma is the leading cause of death for people under 44 in the U.S., and hospitals are thought to spend between $300,000 and $4.5 million on helicopter transport for car accident, gunshot and other trauma patients, study author Dr. Adil H. Haider, a doctor with Johns Hopkins University School of Medicine in Baltimore, told reporters at a JAMA conference Tuesday.

Helicopters have become pretty common since hospitals first began to really use them in the 1970s, he said. "Helicopters were accepted really quickly because they seemed to do a really great job," he told reporters.

But he said research on their usefulness has been mixed. A 2010 found a 22 percent bump in survival odds for patients transported by helicopter, but looking over seven recent studies, Haider and his colleagues found only three showed a statistically significant benefit.

They're also not without dangers. About 72 people died in medical helicopter crashes from 1993 to 2002, according to a National Transport Safety review cited by Haider. For instance, in 2008, a Maryland state police chopper went down, killing the three crew and the patient, who would likely otherwise have survived the injuries that prompted the flight, he said.

To check the effectiveness of helicopters, Haider said his team used sophisticated statistical techniques to compare the results of thousands of patients transported to trauma centers by either helicopter or ground ambulance.

To do the research, the team used the National Trauma Data Bank, a collection of more than 4 million trauma incidents reported by some 900 hospitals, and which is run by the American College of Surgeons. This database goes back a decade, he said.

Haider said the researchers only included records of patients 16 and up, deemed adults by the researchers, who were transported by helicopter or ground vehicles to a level I or II trauma center between 2007 and 2009. All patients also needed an Injury Severity Score of 15 or higher. Haider said this generally indicates fairly serious injuries, such as having a broken leg and a punctured lung, or a busted spleen and an injured spine.

You Must Be Logged In To Post A Comment
Registration is Free and Easy.
Enjoy the benefits of The World's Leading New & Used Medical Equipment Marketplace.
Register Now!