by
Loren Bonner
, DOTmed News Online Editor | May 21, 2012
From the May 2012 issue of HealthCare Business News magazine
According to Holttum, there's only a 50 percent compliance rate for women in the U.S. of screening age to get their annual mammogram.
Analog and computed radiography stick around
James McGinty, president of Digitec Medical, which specializes in the service and manufacture of mammography equipment, says his company has seen an uptick in interest for digital mammography system quotes, but a lag between the request and the final sale.
"For a lot of people, this is their second digital so they've already spent money to go digital. They're going to take the next step a little more slowly to see how things evolve," he says.
According to refurbished systems sellers and dealers, digital mammography has not increased as quickly as anticipated.
In an email to DOTmed Business News, Leon Gugel, president of Metropolis International, said that analog mammography is still the bread and butter of the third party market. "About 80 percent of the market is still keen on using analog systems as the image clarity on late model analog units is 99 percent parity with digital units, at a fraction of the price."
But that's not the case for everyone. McGinty says he's seen a total shift to digital from his clients.
"There's been a higher demand and the request for analog is virtually zero," he says.
At the same time, sales for computed radiography, or CR mammography, are moving along at a steady pace.
"We target customers that want a cost effective solution or don't do a large volume of mammography," says Anne Richards, clinical development manager at Carestream Health.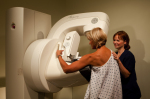 In late March, Fujifilm Medical Systems released the Aspire CRm Full Field Digital Mammography system, specially targeted to breast imaging centers that want to easily transition from analog to digital, but might be discouraged by the high cost.
David Hotchkiss, director of product marketing modality solutions for Fujifilm, says a key reason facilities are making the switch is because they're losing patients to those with digital technology. "We can offer a solution to those facilities. This way they can stay in the business," he says.