Since the late 90s, intravenous clot-busting thrombolytic drugs have been available that can help save stroke patients' lives, and preserve brain function, if given within the first few hours of stroke onset. But something on the order of 2 to 5 percent of stroke victims don't receive these medications, largely because they don't make it to the hospital in time for the drugs to work. As a result, national campaigns in the United States have been trying to get people to recognize stroke symptoms so they can call 911 quicker.
But in Germany, officials in one city have been trying something else. For the past year, some stroke patients in Berlin have received life-saving treatment before they even reached the hospital - thanks to a so-called stroke ambulance outfitted with a portable CT scanner and telemedicine capabilities.
The ambulance, designed by German firm MEYTEC and featuring a scanner made by Massachusetts-based CT developer NeuroLogica, has been in use by Berlin emergency services since January 2011. And it might be coming to the U.S. pretty soon.
Called the Stroke-Emergency Mobile, or VIMED STEMO, it lets onboard operators perform brain scans on stroke patients, transmit images to doctors at nearby stroke centers, and even deliver thrombolytic drugs before the patient makes it to the hospital.
"With STEMO's telemed solutions, CT images can be immediately sent to an attending neuro-intensivist and proper treatment can be administered while the patient is monitored during transport to a stroke center or hospital," Jason Wheeler, with NeuroLogica, told DOTmed News by email. "This is a key point and what sets STEMO apart from other stroke ambulances."
Time is brain
For stroke, the saying is "time is brain" - the quicker the treatment, the better the outcome. In fact, thrombolytic drugs that can eliminate blood clots must be given within three and four and a half hours after the stroke starts. But the drugs, called tissue plasminogen activators (tPA), only work for patients with ischemic stroke, caused by a clot and which accounts for the majority of stroke cases, and not hemorrhagic stroke. If given to hemorrhagic stroke patients, the drugs can actually worsen bleeding. That's why before administering the treatments, doctors have to perform a CT scan to make sure there aren't any ruptured arteries.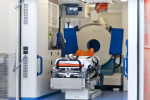 Normally, the scans take place at hospitals, of course, but the ambulance uses NeuroLogica's CereTom, a portable, self-shielding 8-slice CT scanner, first released in the United States in 2005.
The scans taken with the device, and other data, can be shared with doctors and trauma centers thanks to MEYTEC's telemedicine technologies, such as 3G, 4G and satellite systems, according to the companies.
Are there clinical benefits?
Some work on the clinical benefits of CT-equipped stroke ambulances has been done. Just last month, The Lancet Neurology published a German study that found using mobile stroke units (not the STEMO) with portable CT scanners cut average treatment decision times in half. According to the research, it took an average of 35 minutes to reach a treatment decision for those brought by stroke ambulance, and an average of 76 minutes for those treated only at the hospital.
However, no significant differences were found in neurological outcomes. Still, the study only included 100 patients and followed up with them for just a week, and a BBC write-up of the investigation said the study wasn't powered to look for outcome differences, and that more research would be needed.
So when will we see the STEMO in America? According to Wheeler, MEYTEC is currently in talks to bring STEMO to the U.S., but nothing has been finalized yet. As of now, if you want to see it, you'll have to go to Berlin.