by
Loren Bonner
, DOTmed News Online Editor
"You will still have fee-for-service, you'll always have that, but the push toward other payments is happening quickly," she said.
Rewarding value
Story Continues Below Advertisement
We offer full service contracts, PM contracts, rapid response, time and material,camera relocation. Nuclear medicine equipment service provider since 1975. Click or call now for more information 800 96 NUMED
Payers are also pushing to get more of a high-performance bang for their buck, according to Keppler. This means health care vendors will need to appeal to purchasers on the basis of cost, quality and safety.
The Centers for Medicare and Medicaid will begin paying hospitals in its value-based purchasing program in October.
"Basically you've got winners and losers," said Sweeney. "You've got a bucket of money and money will be given back to the winners, and if you don't do well, you have a cut in payments."
Through its program, CMS evaluated hospitals across 12 clinical measures and one patient experience measure.
Across all health care services there is pressure to demonstrate and gather evidence-based outcomes. Sweeney said hospitals' CEOs are already looking into equipment purchases that are backed by evidence and can demonstrate good patient outcomes.
Reimbursement
Declining reimbursement can't be ignored in any discussion about what's negatively impacting the practice of radiology.
"Wouldn't it be great if 2015 looked like it did in 2009 or better yet, 2005 before DRA [the Deficit Reduction Act]," said Muroff.
As he did last year, Muroff spoke at AHRA about reimbursement cuts -- for both the technical and professional components -- and the picture he painted was even bleaker.
"The problems are still the same from last year. They are only intensified," he said.
Reimbursements are being slashed to an even greater degree, he observed, with increases in equipment utilization rates; consolidation of interventional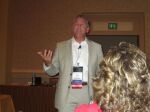 radiology and CT codes; adoption of Medicare rates by other insurers; and homogenization of the regional reimbursement variations.
A failure by Congress to fix the sustainable growth rate (SGR) formula, which calls for a 30 percent cut in Medicare reimbursements to physicians next year, will result in even more pain. Sweeney predicts a fix (likely a short-term one) won't happen until after the election.
Workforce shake-up
As payers focus on performance-driven reimbursements, multi-specialty care teams will increase, according to Sweeney.
| | | | |
| --- | --- | --- | --- |
| << | Pages: 1 - 2 - 3 | >> | |