Almost half of U.S. docs report burnout: study
by
Brendon Nafziger
, DOTmed News Associate Editor | August 21, 2012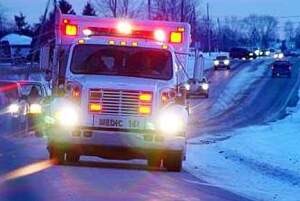 Doctors experience burnout more than any other worker in the United States, with emergency room physicians and other so-called "frontline" docs topping the list, according to a study published Monday in the Annals of Internal Medicine.

In a survey of 7,288 U.S. physicians, nearly 46 percent reported at least one symptom of burnout, generally characterized by emotional exhaustion, reduced feelings of accomplishment and cynicism.

"The fact that almost one in two U.S. physicians has symptoms of burnout implies that the origins of this problem are rooted in the environment and care delivery system rather than in the personal characteristics of a few susceptible individuals," write the authors, led by Dr. Tait D. Shanafelt, with the Mayo Clinic in Rochester, Minn.

Feeling the burn

The doctors were measured on a standard burnout metric called the Maslach Burnout Inventory Manual, originally developed by psychologist Christina Maslach and her colleagues more than 25 years ago. The inventory requires survey-takers to rate how much they agree with statements, such as "I'm depressed at work" and "I doubt the significance of my job."

When compared with a probability-based sample of 3,442 U.S. workers, doctors were significantly more likely to be stressed out. About 38 percent of doctors reported burnout symptoms, compared with 28 percent of the other adults, and 40 percent of physicians were displeased with their work-life balance, compared with 23 percent of the control sample.

For the doctors, 38 percent reported emotional exhaustion, 29 percent "depersonalization" or cynical regard for others, and 12 percent reduced feelings of accomplishment, according to the study.

By specialty

Of the 23 or so specialties listed, emergency medicine doctors were by far the most burnt out, with over 60 percent reporting symptoms, followed by internists, neurologists, family medicine practitioners and ear-nose-and-throat specialists.

The least burnt out were preventive, occupational and environmental medicine specialists, with fewer than 30 percent reporting burnout, followed by dermatologists, pediatricians, pathologists and radiation oncologists.

Radiologists had a slightly above average burnout risk among doctors, with just about half reporting symptoms. However, they also had one of the happiest reported work-life balance, with more than 55 percent saying that work leaves enough time for personal and family life, according to a graph accompanying the study.

Preventive medicine doctors, dermatologists and pediatricians reported the best work-life balance, while surgeons, gynecologists/obstetricians and neurologists reported the worst.

Funding for the study, "Burnout and Satisfaction With Work-Life Balance Among US Physicians Relative to the General US Population," was provided by the American Medical Association and Mayo Clinic.


You Must Be Logged In To Post A Comment
Registration is Free and Easy.
Enjoy the benefits of The World's Leading New & Used Medical Equipment Marketplace.
Register Now!