Survey: Interoperability woes 'major barrier' to health info sharing
by
Brendon Nafziger
, DOTmed News Associate Editor | October 04, 2012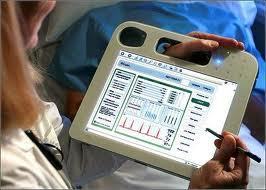 During his recent experience with the U.S. health system to get a diagnosis for a medical condition, Mark D. Barner said he went from his family doctor to a specialist to a radiologist who performed an MRI scan. At every step of the way, the information gathering was repeated, and there was next to no electronic sharing of his health data.

"Boy, it's a drag," he said Wednesday at a panel discussion on electronic health record sharing problems hosted by the Bipartisan Policy Center in Washington, D.C.

Barner, who happens to be the chief information officer of Ascension Health, the nation's largest non-profit and Catholic hospital chain, said his own experiences as a consumer have reinforced his belief in the importance of driving interoperability — or the ability of electronic health records or other digital medical systems to communicate electronically with each other.

And Barner's not alone. The day-long series of talks he participated in was actually held to coincide with the release of a new survey from the American College of Physicians that found the lack of interoperability was judged by doctors to be the main barrier to the sharing of electronic data. (The talks also were timed for the release of the Bipartisan Policy Center's new report on how to promote electronic info exchanges.)

"I sure wish there was a way to speed up that electronic (data sharing)," Barner said.

Positive impact

The survey, which was carried out over the summer and early fall by ACP and a nonprofit outfit called Doctors Helping Doctors Transform Health Care, polled ACP members, as well as physicians affiliated with the American College of Surgeons, American Academy of Pediatrics and those involved with American EHR Partners, an entity set up by ACP to help doctors select EHRs.

A typical primary care doctor, who represented the majority of respondents to the survey, coordinates with an average of 229 other doctors, working out of 117 different practices, every year -- and just for Medicare patients, according to a 2009 study cited by the survey.

Because doctors have to work with so many of their peers, it's perhaps not surprising they're fairly optimistic about the benefits of the electronic exchange of patients' health information.

According to the survey, about 80 percent of doctors said electronic exchanges would improve quality of patient care and ability to coordinate care, and 78 percent said they would help providers meet the demands of new care models, such as accountable care organizations and patient-centered medical homes.

You Must Be Logged In To Post A Comment
Registration is Free and Easy.
Enjoy the benefits of The World's Leading New & Used Medical Equipment Marketplace.
Register Now!