by
Sean Ruck
, Contributing Editor | April 10, 2015
From the April 2015 issue of HealthCare Business News magazine
Next generation SPYGLASS DS Direct Visualization System
Boston Scientific Corporation recently announced 510(k) clearance and the first cases of the SpyGlass DS Direct Visualization System used for cholangioscopy and pancreatoscopy procedures. Built on the technology of the original SpyGlass System, the new SpyGlass DS System is designed to optimize procedural efficiency and productivity with improved ease of setup, ease of use and image quality.
Renal dialysis hot water disinfection unit
Purite has received US Food and Drug Administration (FDA) approval for the U.S. version of its Heatsan 400 unit, which is ideal for disinfecting renal dialysis water distribution systems. The Heatsan 400 hot water disinfection unit can be used to specifically disinfect distribution systems, ensuring all lines and distribution loops leading in and out of dialysis machines are routinely disinfected. The system offers an integrated disinfection system, which can be programmed outside of actual dialysis hours to disinfect either single or multiple distribution loops. It also draws only the amount of water required, making this an energy efficient and cost-effective addition to the renal sector, and holds up to 380 litres of hot water at 85 degrees.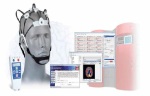 COGNISION system
Neuronetrix recently announced that it has received 510(k) clearance from the United States Food and Drug Administration to market the COGNISION System for clinical use. The COGNISION System is a portable device used to record electrical brainwaves from patients with neurological problems. Tests include both standard electroencephalograms (EEG) as well as auditory event related potentials (ERP). The device is easy-to-use and inexpensive enough to be used by private practice physicians in their office.