Yesterday, I spoke with my friend Tom Spees on the telephone and was pleased to discover that two friends of mine recently joined the Richardson Electronics Healthcare organization.
Chuck Gauthier joined Richardson and will be responsible for leading efforts for the company's international expansion. Chuck will be directing the activities of the Healthcare Products group using the existing Richardson infrastructure in the 23 different countries where they have offices.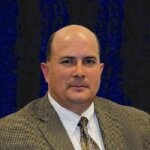 James D. Prout, Jr. also joined Richardson Electronics Healthcare as Sales Manager for Service Channel and the Northeast District. Jim was most recently with Philips Healthcare, with experience in high value component, system and service sales.
I have known Chuck and Jim a long time and they are both hard working fellows and both gentleman.
As we spoke, I could tell that Tom was very pleased about the additions of Chuck and Jim, as well as Richardson's prospects in general.
It's always exciting to bring new people into a business, particularly when you know that they are capable of great things. For that reason in particular, I will be keeping an eye on the company.
Phil is a member of AHRA, HFMA, AAMI and the Cryogenic Society of America. He has contributed to a number of magazines and journals and has addressed trade groups.
Phil's proudest achievement is that he has been happily married to his wife Barbara since 1989, who helped him found DOTmed in 1998.