Future of clinician training 'left to chance' due to lack of medical education research
by
Lauren Dubinsky
, Senior Reporter | July 01, 2015
Emergency Medicine
European News
Primary Care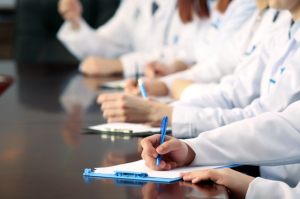 Everyone knows that cars require quality oil to prevent them from becoming rusty and grinding to a halt. For the health care industry, that necessary oil is medical education research, but unfortunately there is a lack of it, according to an editorial published in The BMJ.

The authors of the editorial explained that more research funding is needed to support the evidence base for medical education and prevent it from being left up to chance. "Without oiling the health care machine with the best research, funded appropriately, the rest of the expensive health care infrastructure will never work effectively," the authors wrote.

About 98,000 people in the U.S. and 12,000 in England die every year due to preventable medical errors, according to the editorial. In the U.S. alone, those deaths cost the health care system an estimated $29 billion.

A recent survey from Wales revealed that out of 45 health care education researchers, only four were principle investigators on research projects with £100,000 grants over a span of four years and only 24 reported that they received any funding at all. Yet Cancer Research UK spent over £350 million on research last year.

In addition, medical education research is often undertaken by educators and clinicians who are unpaid and work on their own time. But in other research fields, the greatest amount of progress happens when academics have dedicated funded time to work on multifaceted issues and how they are associated with patient benefits.

However, some progress is being made. In the U.S., the Institute of Medicine proposed a "transformation fund" to support innovation and research in graduate medical education, and a similar policy has already been developed in England with Health Education England funding and delivering postgraduate training.

The authors stressed that medical education research has the potential to improve medical students' and physicians' learning and how health care is delivered. "To us and to many in the health professions the advantages are obvious: an optimally trained clinical workforce, a contribution to avoiding preventable medical errors, efficiently and effectively run health services, and ultimately improved care and clinical outcomes for patients." Dr. Julian Archer, lead author of the editorial, said in a statement.
You Must Be Logged In To Post A Comment
Registration is Free and Easy.
Enjoy the benefits of The World's Leading New & Used Medical Equipment Marketplace.
Register Now!