From the August 2015 issue of HealthCare Business News magazine
Next-generation small cyclotron and PET tracer production solution
GE Healthcare has created a solution to make PET tracers for diagnostic imaging more readily available. The GENtrace is a small cyclotron, with a smaller footprint, that is optimized for ease-of-use. The GENtrace cyclotron is simple to use due to more automated steps, takes up less space, and can be operated by a nuclear medicine technician. With these benefits, facilities in emerging markets and those outside the distribution radius for PET tracers can become autonomous in their F-18 manufacturing.
New "touch" ultrasound systems
Two new Ultrasound Systems have received FDA 510(k) clearance. The CARESTREAM Touch Prime Ultrasound System and the CARESTREAM Touch Prime XE Ultrasound System are designed for general diagnostic imaging use in radiology. The Touch Prime XE is capable of frame rates in excess of 100Hz while maintaining improved imaging detail, and includes optional features such as DICOM, wireless connectivity, barcode and badge readers and elastography as part of the system.
Both the Touch Prime and Touch Prime XE offer a sealed, all-touch control panel that combines the speed and flexibility of a soft user interface with the tactile feedback of traditional keys. Etched marking for primary controls assists the user with easily locating key functions without looking away from the image display monitor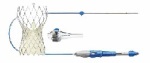 New TAVR system introduces first and only recapturable heart valve in U.S.
Medtronic recently announced FDA approval and U.S. launch of the CoreValve® Evolut R System. The first-and-only recapturable and repositionable device available in the U.S., the Evolut R System is approved for transcatheter aortic valve replacement (TAVR) in severe aortic stenosis patients who are a high or extreme risk for surgery. The new system consists of the CoreValve Evolut R transcatheter valve and the EnVeo R Delivery System, which features an InLine Sheath that significantly reduces the profile to the lowest on the market (14 Fr equivalent, less than 1/5 inch).