RhythMedix' RhythmStar System for arrhythmia monitors over 23,000 patients
by
Christina Hwang
, Contributing Reporter | April 28, 2016
Cardiology
Patient Monitors
Risk Management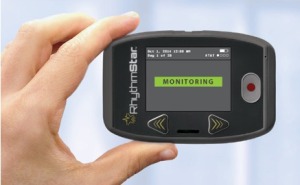 RhythMedix, a wireless medical arrhythmia monitoring company, announced that over 23,000 patients in the U.S. have used the RhythmStar System, the first single component cloud-based cardiac monitoring solution.

The RhythmStar Remote Cardiac Monitoring System functions in three monitoring modes, Holter, which records a patient's heart rhythm for one to two days; Event, worn for 30 days by patients who have infrequent cases of arrhythmia; and Mobile Cardiac Telemetry (MCT), which provides real-time monitoring and analysis by a registered nurse.

The company had partnered with Microsoft Azure, a cloud computing platform built for building, deploying and managing applications and services, to allow physicians to access real-time patient information using a cloud-based algorithm analysis. The information is then sent to an independent diagnostic testing facility.

"Many traditional diagnostic devices that patients wear are only for a couple of days, while the RhythmStar can be worn for up to 30 days," Brian Pike, co-managing principal for RhythMedix, told HCB News.

"There is lots of information that says that patients should wear them longer to ensure it captures the arrhythmia accurately, and RhythmStar has a high diagnostic yield so the physician can figure out what is wrong with the patient and provide appropriate therapy such as ablation or medication," Pike said.

In the video, see how RhythmStar can benefit both patients and physicians.



In the first year the device came into the market, the company had projected to service 15,000 patients, but had significantly exceeded that amount by more than 7,000. Many clients had trialed the device, and within a few weeks, were requesting more devices.

"We hope to see a continued momentum [with regard to] growth and double by next year to 40,000," said Pike.

The company has undergone a non-infringement patent assessment process and secured a multi-million dollar litigation patent defense insurance policy from Intellectual Property Insurance Services Corporation.
You Must Be Logged In To Post A Comment
Registration is Free and Easy.
Enjoy the benefits of The World's Leading New & Used Medical Equipment Marketplace.
Register Now!