Ninety percent of all inpatients at risk for infusion pump mistakes
by
John W. Mitchell
, Senior Correspondent | August 10, 2016
Health IT
Medical Devices
Risk Management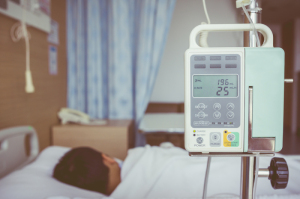 On Monday, hospital managers from Maryland and Indiana presented process improvement they implemented to achieve 95-100 percent compliance in adherence to more stringent industry infusion pump safety standards. The webinar, which was streamed to 93 sites across the country, was presented by the Association for the Advancement of Medical Instrumentation (AAMI).

"Over the past several years, significant safety issues related to infusion pumps have come to the FDA's attention. These issues can compromise the safe use of external infusion pumps and lead to over- or under-infusion, missed treatments, or delayed therapy," Marilyn Neder Flack, Senior Vice President of Patient Safety Initiatives and Executive Director of the AAMI Foundation told HCB News.

According to Neder Flack, from 2005 through 2009, the FDA received approximately 56,000 reports of adverse events associated with the use of infusion pumps, including numerous injuries and deaths. During this time period, manufacturers conducted 87 infusion pump recalls to address identified safety concerns. The Institute of Medicine has estimated that medical errors are responsible for up to $29 billion in costs each year, much of this due to adverse drug events.

"Infusion safety is an important safety initiative and success can be achieved with leadership and clinical support," Chrissy Ruhl, BSN, Director of Critical Care Services at Western Maryland Health System, Cumberland, MD told HCB News. She reviewed how her hospital was able to quickly achieve up to 93 percent smart infusion pump compliance in six weeks and eventually 100 percent compliance.

She also said that smart infusion pumps provide important treatment data. This is very helpful if a family member or physician has concerns or questions about administered medications, such as pain or oncology treatments.

As with Ruhl, Andy Aldred, PharmD, MBA, Director of Pharmacy and Materials Management at Cameron Memorial Community Hospital, Angola, Indiana, spoke about their efforts to expand their medication library database – which sets minimum and maximum dose levels and alerts - in their smart pumps. He also noted that when they began their infusion pump process improvement, they had no idea how they compared to other hospitals. They turned to REMEDI Central, a free benchmarking tool developed by Purdue University.

"REMEDI allowed us to benchmark ourselves against other facilities. IV pump library compliance improvement is an ongoing process that takes vigilance and teamwork to sustain," said Aldred. He said that Cameron was able to increase their compliance from the low 80th percentile to over 95 percent.

You Must Be Logged In To Post A Comment
Registration is Free and Easy.
Enjoy the benefits of The World's Leading New & Used Medical Equipment Marketplace.
Register Now!