This is the image capture device your clients have always wanted!
FOR MORE INFORMATION AND PRICING CLICK HERE or call today: 800-400-7972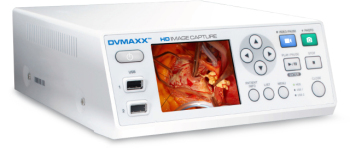 The DVMAXX HD is the modern medical capture device designed for the way your clients work. Capture, manage, and transfer all in one smart and intuitive system designed for ease of use. The DVMAXX HD can record video and capture images in full 1920x1080 HD and simultaneously store to the 500GB internal hard drive, a network server, or through the front loading USB ports to a USB or external drive.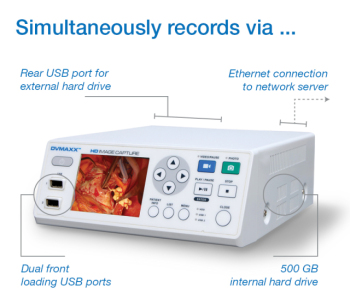 With a built in 3.5" LCD users can easily navigate through menu options, patient information, transfer data, playback, or watch live footage. To top it off DVMAXX HD is ready to plug in and go with the ability to auto sense connections and video resolution detection.
PRODUCT SPECIFICATIONS
Built in 3.5" LCD for live viewing and playback
Full HD capture (1920x1080)
Automatically detects connections and video resolution
Simultaneously record to:

500GB built in hard drive (100 hours of HD video)
Front and rear USB ports USB drives or external hard drives
Network server
FOR MORE INFORMATION AND PRICING CLICK HERE