A new therapeutic agent for radioligand therapy called lutetium-177-labeled PSMA-617 is showing promise in a German multi-center study for treating patients with metastatic castration-resistant prostate cancer. The research was recently published in The Journal of Nuclear Medicine.
Lu-177-PSMA-617 shows efficacy in patients independent of prior therapies," Dr. Kambiz Rahbar of the University Hospital Muenster, told HCB News. "It has a favorable toxicity profile, especially compared to cytotoxic chemotherapy."
Story Continues Below Advertisement
We offer full service contracts, PM contracts, rapid response, time and material,camera relocation. Nuclear medicine equipment service provider since 1975. Click or call now for more information 800 96 NUMED
Prostate-specific membrane antigen is overexpressed in prostate cancer, especially with castration-resistant disease. mCRPC is usually responsible for prostate cancer deaths and the median survival for men with the disease is less than two years.
As part of the study, 145 patients with mCRPC were treated with Lu-177-PSMA-617 at 12 therapy centers across Germany from February 2014 to July 2015. Each patient received one to four therapy cycles and a total of 248 therapy cycles were performed.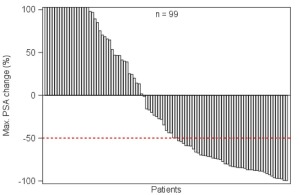 If the prostate-specific antigen amount decreased by 50 percent or more at least two weeks after the start of the therapy, the researchers considered it effective. They found that 45 percent of patients had a positive response after all of the therapy cycles and 40 percent responded after one cycle.
The patients experienced a few manageable side effects including hematoxicity, anemia, thrombocytopenia, leukopenia and dry mouth.
The researchers concluded that Lu-177-PSMA-617 radioligand therapy is safe and more effective than other third-line systemic therapies for mCRPC patients. However, more studies are needed to further validate its effectiveness in order for it to receive FDA approval.
"We think Lu-177-PSMA-617 will provide an additional therapeutic option for mCRPC and maybe as an additive therapy to established therapies at earlier stages to improve outcome," said Rahbar.