JACKSONVILLE, Fla. (January 26, 2017) – UF Health Proton Therapy Institute unveiled a new teaching tool designed especially for children who need proton therapy, an advanced type of radiation treatment for cancer. Proton U is a customized app designed to aid children before proton therapy begins by familiarizing them with what to expect during treatment.
Children are often anxious and fearful of the unknown when it comes to their medical treatment. Studies show that we can reduce anxiety and teach coping skills to children through medical play, hands-on learning and pre-treatment tours. The app is a unique way to combine children's natural curiosity and technology to improve the medical treatment experience.
Story Continues Below Advertisement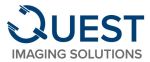 KenQuest provides all major brands of surgical c-arms (new and refurbished) and carries a large inventory for purchase or rent. With over 20 years in the medical equipment business we can help you fulfill your equipment needs

UF Health Proton Therapy Institute Child Life Specialist Kim Todd had the idea to develop an app for the iPad that patients could use with her during sessions and on their own at home. She contacted her alma mater, Flagler College, to ask for help, and they agreed to take on the project as a community service. More than 30 Flagler College students designed the graphic art for the interactive game/storybook written by Kim. Students volunteered to be the recorded voices of Jefferson, the Proton U mascot, and various medical team characters introduced throughout the game.
A UF Health Proton Therapy Institute patient with Microsoft contacts connected Kim with a programmer who initiated the app's development, and a UF engineering faculty member programmed Proton U with music and animation features that brought the app to life.
The app design was recognized by the Florida Campus Compact Awards, winning second place in the statewide 2015 Campus Community Partnership category. The Florida Campus Compact is a network of about 60 colleges and universities in Florida who are committed to community service that enhances students' education, workforce readiness and civic mindedness. The app design made the shortlist for an international recognition by the Interaction Design Association in its "Empowering" category for "helping people to do things they otherwise couldn't do."
About UF Health Proton Therapy Institute
UF Health Proton Therapy Institute is a nonprofit 501(c)3 organization affiliated with the UF College of Medicine and the UF Health Cancer Center, a Florida Cancer Center of Excellence, dedicated to delivering state-of-the-art cancer treatment and setting new standards for treating and curing cancer. It is an accredited radiation oncology facility by the American College of Radiology. The cancer treatment facility houses both conventional radiation and proton therapy, and delivers proton therapy to 100 patients a day. For more information about the UF Health Proton Therapy Institute, please visit www.floridaproton.org, or call toll-free 877-426-9790.
Back to HCB News