Remembering John Fratello
by
Philip F. Jacobus
, CEO | February 01, 2017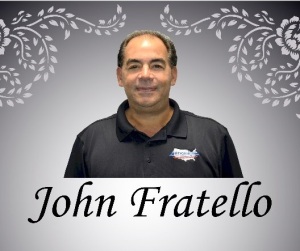 John Fratello, whom many of you may remember as the friendly and outgoing salesperson at Nationwide Imaging, died on 1/⁠29/⁠2017. He was 54 years old. John leaves behind his wife, Maria, and his two children, Christina and Johnny

John had a great personality and livened up any room the moment he walked in. He always had a big smile, a firm handshake and he went out of his way to make you feel good.

In 2000, John joined Nationwide Imaging Services as a salesperson and proved to be a hard worker. If I called early in the morning or late at night, there was a good chance that John would answer the phone.

He was invited to join Nationwide by Robert Manetta and it was Robert who shared Johns passing with me. Robert told me that he will miss John as will all of John's coworkers.

I trusted John in business and I felt that he was a honest person who cared about his customers.

Over the years I have cataloged many funny stories about John but most of all I will always remember a telephone conversation I had one night at 7:00 pm.

John was in a dry spell at work and was worried about his future. He explained to me how important it was for him to be a success in business because he loved his family and wanted to provide a better life for them. He credited me with encouraging him to hang in there and keep pushing but really he deserves all the credit because he made up his mind that he would push harder and he did just that!

In time John became one of the best deal makes that I know. It is a hard business but John made it happen.

I always had a high opinion of John and I will remember him as a hard worker, a good guy and a friend. I am so glad to say that I told him so when he was alive.
View all The Jacobus Report Blog Posts
---
About Phil Jacobus

Phil Jacobus has been involved in health care since 1977, when he visited China to sell equipment. He has done business in 35 countries and still travels extensively. Phil is active in charity, helps rural clinics and always tries to help DOTmed users when he can.
Phil is a member of AHRA, HFMA, AAMI and the Cryogenic Society of America. He has contributed to a number of magazines and journals and has addressed trade groups.
Phil's proudest achievement is that he has been happily married to his wife Barbara since 1989, who helped him found DOTmed in 1998.
You Must Be Logged In To Post A Comment
Registration is Free and Easy.
Enjoy the benefits of The World's Leading New & Used Medical Equipment Marketplace.
Register Now!