Digital mammo detects more cancer, but also more false positives: study
by
John W. Mitchell
, Senior Correspondent | March 07, 2017
Women's Health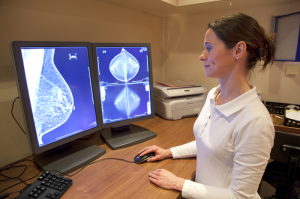 Although digital imaging is more effective in finding breast cancer, the newer technology also results in higher abnormal interpretations. This, in turn, results in more biopsies on benign tumors, according to a study by the Breast Cancer Surveillance Consortium (BCSC) just published in Radiology.

However, women should know that with each breakthrough technology, the trade-off between early detection and false positives gets better.

"In order to increase breast cancer detection one has to accept higher recall rates to some extent," said Dr. Stamatia Destounis, managing partner at Elizabeth Wende Breast Care, a screening center, and a member of the BCSC public information network.

The study included data from six BCSC registries comprising 418 radiologists and 92 radiology facilities. Mammography indication and assessments were collected on women undergoing diagnostic digital mammography and linked with cancer diagnoses from state cancer registries. The database included 401,548 examinations conducted from 2007 to 2013 on 265,360 women.

The study was a follow-up to an original 2005 study on the performance of diagnostic mammography in the U.S. At the time, film mammography was the standard.

With digital technology replacing film, the researchers decided it was time to revisit the old benchmarks. The latest study found that breast cancer detection rates increased from 25.3 per 1,000 exams to 34.7 per 1,000. The increase is attributed to the wider use of digital mammography.

"The newer technology involving digital showed an improvement in lesion detection and higher cancer detection," said Destounis. "Improvement of image quality is so important in identifying subtle cancers and increasing cancer detection."

However, along with the increase in detection, the abnormal interpretation rate, or the rate at which women are called back for biopsy, rose from 8.0 percent in 2005 to 12.6 percent in the new study.

Destounis predicted that such false positives that require biopsies on benign masses will likely decrease as the newer technology becomes the standard.

"Since this time period [of the study] many additional new technologies have emerged, such as digital breast tomosynthesis. This 3-D mammogram reduces recall rates and reduces false positive callbacks, and unnecessary workups," she said.

According to Destounis, a possible limitation on the study findings is that the study was conducted by a diverse range of radiology practices across geographical areas in the U.S. A BCBS study source also noted that in Europe call backs for abnormal findings were not nearly as high as in the U.S. This was attributed to the European practice of double reads, where two radiologists review a mammography image.

Looking into the future, Destounis noted that genetic risk is coming more into the forefront as a new form of breast cancer screening. This, she said, will be an opportunity to collect risk factors for each patient to understand if there is any difference in patient populations examined using the old film screening mammography technology.
You Must Be Logged In To Post A Comment
Registration is Free and Easy.
Enjoy the benefits of The World's Leading New & Used Medical Equipment Marketplace.
Register Now!