by
Lisa Chamoff
, Contributing Reporter | May 22, 2017
From the May 2017 issue of HealthCare Business News magazine
"Seventy percent of alarms in the ICU are false positives," says Ajay Parkhe, the general manager of GE's monitoring solutions business.
For example, if an alarm is set when a pulse oximeter measures the saturation of peripheral oxygen (SpO2) at 91 percent, a facility could use the data generated by the application and set an alarm to sound when the SpO2 level goes down to 89 percent, Parkhe says.
Earlier this year, the company also launched a new version of its CARESCAPE Central Station product.
GE also recently announced the acquisition of Monica Healthcare, a monitoring technology company based in the U.K. that manufactures the Novii, a wireless patch that monitors maternal heart rate, fetal heart rate and uterine activity during labor, allowing women to move more freely.
Infinium Medical
Infinium Medical released its CLEO vital signs/CO2 monitor, a basic model that tracks blood pressure, CO2 and temperature, in the U.S. last year.
The company markets to clinicians who are price conscious, such as sedation dentists and oral surgeons, says Suleyman Bilgutay, managing partner at Infinium Medical.
"With the CLEO, we wanted the most cost-effective CO2 measurement on the market," Bilgutay says.
The product costs 30 percent less than the company's competing products, which retail for $2,500 to $3,500, he said.
Mindray North America
In the last 15 months, Mindray North America had several new releases.
The first was the T1 Transport Monitor/Module, part of Mindray's Passport family of monitors. The T1 can function as a transport monitor, a multi-parameter monitor module and a traditional bedside monitor when connected to an external 19-inch touch-screen display.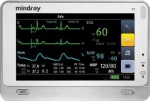 "In the emergency department, the T1 can be used to monitor overflow patients when a room or pod is not available," says Jeff Corliss, senior director of marketing for Mindray North America. "When the room is available, the T1 can convert to a bedside monitor with large display. When the patient moves from the ED to an inpatient environment, the T1 serves as a module plugged into the more comprehensive Passport monitor."