by
Lisa Chamoff
, Contributing Reporter | May 22, 2017
From the May 2017 issue of HealthCare Business News magazine
The company also introduced BeneVision Central Station, which allows clinicians to remotely monitor patients across the hospital, and the BeneVision TD60 Display Telemetry/Transmitter. The TD60 is a compact telemetry unit with large display that is gesture-driven like an iPhone, that allows the patient to be monitored while ambulating, Corliss says.
Mindray has also expanded its medical record integration capability with the eGateway integration engine, which allows patient monitoring data to be transferred to the hospital's EMR.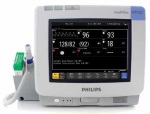 Philips
Like other companies, Philips is focused on helping hospitals achieve better patient outcomes and reducing costs. To that end, last fall Philips released its next generation IntelliVue Guardian Solution with early warning scoring that Felix Baader, the company's business leader for patient monitoring, says uses artificial intelligence to provide early detection of patient deterioration.
Nurses in the low-acuity space monitoring vital signs will be alerted and can prevent adverse events, Baader says.
"Based on these vital signs being fed into it, we can do the really early deterioration protection," Baader says.
In March 2016, at HIMSS in Las Vegas, Philips also launched its IntelliSpace Console Critical Care, which provides a cloud-based clinical decision support dashboard in the ICU. It combines information such as vital signs, lab data and medication information and provides an overview, with all the essential information for ICU physicians to make patient care decisions.
"This is the glue integrating our hardware and our services together," Baader says. "These solutions offer the real value to the customer and the patient, be it providing more reliable information used for discharging the patient from the ICU to the general ward, reducing readmissions and reducing cardiac arrest."
Spacelabs Healthcare
In 1969, technology from the aptly-named company was used to monitor the vital signs of astronaut Neil Armstrong during his walk on the moon. Today, Spacelabs is working on the modern-day health care challenges associated with patient monitoring, including alarm fatigue, monitoring patients during transport and early ambulation.