The global medical imaging software market is expected to reach more than $4.8 billion by 2021 at an annual growth rate of 7 percent, according to a new market report from Technavio.
The market is carved up into radiographic imaging, ultrasound imaging, tomography, MR and nuclear medicine segments. A strong focus on preventive medicine and early diagnosis has contributed to the increased adoption of medical imaging software solutions in these segments.
Story Continues Below Advertisement
Special-Pricing Available on Medical Displays, Patient Monitors, Recorders, Printers, Media, Ultrasound Machines, and Cameras.This includes Top Brands such as SONY, BARCO, NDS, NEC, LG, EDAN, EIZO, ELO, FSN, PANASONIC, MITSUBISHI, OLYMPUS, & WIDE.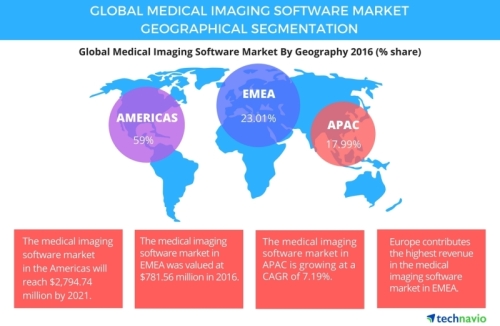 The Americas account for 59 percent of the market, and the region will exceed revenues of $2.8 billion by the end of the forecast period. The most popular 3-D medical imaging platforms in this region are MR, ultrasound, CT and PET — and GE Healthcare and Siemens Healthineers are responsible for the majority of the growth.
The medical imaging software market in Europe, the Middle East and Africa was worth $782 million in 2016, and is projected to reach more than $1.1 billion by 2021. The U.K., Germany, France, Italy and Spain are the main revenue-generators in these regions.
Factors including successful R&D efforts, an aging population, the rising prevalence of diseases, and ongoing technological improvements are driving the growth of the market. This market is dominated by CR X-ray systems and PET/CT scanners.
The Asia Pacific market is expected to grow the fastest, increasing at an annualized rate of 7 percent over the forecast period. Japan, China, South Korea, India and Malaysia are expected to contribute the most to the market, where the growing popularity of PACS for digital X-ray systems is expected to be a major revenue generator.