From the July 2017 issue of HealthCare Business News magazine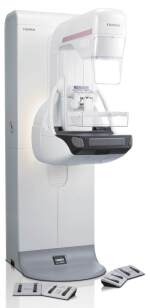 FUJIFILM Medical Systems U.S.A. Inc.
ASPIRE Cristalle
FUJIFILM Medical Systems U.S.A. Inc. presents its latest advancement in digital mammography, the ASPIRE Cristalle, now with digital breast tomosynthesis (DBT), to focus on every detail of the patient experience to help ensure patients are treated like family, with personalized imaging and comfort.
ASPIRE Cristalle combines state-of-the-art, Hexagonal Close Pattern (HCP) image capture technology and intelligent image processing, optimizing contrast and dose based on breast density. The result is exceptional imaging, optimized contrast, low dose and fast acquisition time.
Hitachi Healthcare Americas
SOFIA 3D Breast Ultrasound
SOFIA solves the economic and logistic challenges of whole-breast ultrasound by using a different acquisition technique than other automated systems. Its unique full-field radial scanning method allows an entire breast to be imaged in a single volume and in only 30 seconds. Its Hitachi scan engine provides high-resolution volume datasets for quick interpretation, while its ergonomic scan table and unique prone scanning position offer patients the utmost privacy and comfort during the short exam.
Hologic
Affirm Prone Breast Biopsy System
The Affirm Prone Breast Biopsy System delivers faster, more comfortable procedures by increasing automation, providing superior imaging and giving 360-degree access to the breast, creating a better experience for patients and providers. It's the only dedicated prone biopsy system offering superior 2-D or 3-D imaging, and allows for 2-D users to easily upgrade to 3-D imaging when ready. It's the only dedicated prone system with a modern operating system designed for the future.