Imagine a handheld scanner that can read a heart's vital signs like a supermarket bar code reader scans items at the checkout.
The EU's Horizon 2020 collaboration, known as the CARdiovascular disease Detection with Integrated Silicon Photonics (CARDIS), is working on making that a possibility. The hope is for a general practitioner to use the scanner during a routine health exam to spot preclinical patients with early onset cardiovascular disease.
Story Continues Below Advertisement
We offer full service contracts, PM contracts, rapid response, time and material,camera relocation. Nuclear medicine equipment service provider since 1975. Click or call now for more information 800 96 NUMED
Cardiovascular diseases are the number one cause of death globally, according to the World Health Organization. Approximately 17.7 million people died from these diseases in 2015, which represented 31 percent of all deaths worldwide.
"The screening of potential sufferers, who are in their early 40s, would delay the onset of the condition by 5 to ten years," Dr. Mirko de Melis, lead scientist EMEA for patient monitoring and diagnostics at Medtronic, said in a statement. "Assuming a sufferer would comply with the health advice given, and adopt a change in lifestyle, this device allows the medical professional to halt or even reverse CVD."
The handheld scanner leverages a technique called Laser Doppler Vibrometry that's based on photonics technology. It works by harnessing the Doppler Effect, which is used to observe changes in pitch of light or sound from a fixed point.
With that information, the scanner can create a vibration map of the chest and heart area. That can help practitioners spot the telltale signs of cardiovascular disease like plaque build-up, arterial stiffness, arterial stenosis and heart dyssyncrony.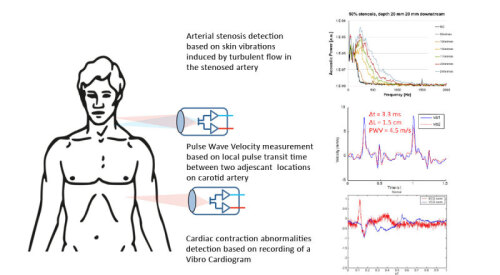 "A stiff artery creates a faster pulse pressure from the patient's beating heart," said de Melis. "By measuring the 'pulse wave velocity', we can assess the stiffness of the arteries using light, and make informed judgments long before the onset of cardiovascular disease."
The standard approaches for diagnosing cardiovascular disease include cardiac biomarkers, cardiac catheterization, chest X-ray, ECG, Holter monitoring and cardiac MR. Those tools can be very expensive — an echocardiographer is above €100,000 — but the handheld scanner is expected to be priced at €1,500.
There are a number of vibration sensors that can be used to diagnose these diseases but they don't leverage the LDV technique, which is non-invasive, provides a higher degree of accuracy and requires less time.
The CARDIS collaboration received a grant of about €3.6 million from Horizon 2020 through the Photonics Public Private Partnership, and Medtronic was named the technical coordinator. A prototype is expected to be unveiled in the summer of 2018.