The best part of my job is staying in touch with people. It's interesting to note that in the first six months of this year, I spent over 400 hours on the telephone.
This week, I spoke to Dave Band and Scott Simmons, two well-known industry players. I called them to ask them about their decision to purchase Advanced Imaging Systems.
I've known Dave since the 80's. It was Dave who had the idea to form IAMERS, the diagnostic imaging trade association that is still in operation today. Dave helped to bring together several companies to form Platinum and Platinum was eventually sold to Oxford and Dave and Scott worked for Oxford for a number of years.

Carestream Health is a leading provider of quality X-ray systems and detectors that are designed to maximize diagnostic confidence, workflow and patient satisfaction. Follow the link above to see our complete portfolio of digital radiography solutions.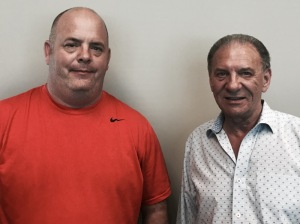 Scott and Dave became partners in 2007 at Platinum. Before that time, Scott worked for a Mobile Imaging Company as a MR engineer and worked his way up the ladder there. He has a great reputation in the industry as an MR expert.
When Dave retired from Oxford, I expected him to take it easy but Dave has too much energy. Scott is too young to retire so he and Dave partnered up to purchase AIS.
AIS is already known for providing spare parts and service and as the company is conveniently located where Dave and Scott live, it seemed like a good fit to leverage Scott and Dave's personal connections and experience with the AIS infrastructure and service team.
In the call, Dave and Scott were enthusiastic and optimistic. They moved the company to a new 30,000 sq foot facility. There's an old saying that it's not always what you know but who you know and Dave and Scott know lots of people in the field.
I am encouraged by this because it reinforces my view that the demand for quality service and spare parts is greater than the supply.
When two fellows as smart as Dave and Scott decide to invest not only their money but their time, it's encouraging to me.
I will be expecting great things in the months to come.
Phil is a member of AHRA, HFMA, AAMI and the Cryogenic Society of America. He has contributed to a number of magazines and journals and has addressed trade groups.
Phil's proudest achievement is that he has been happily married to his wife Barbara since 1989, who helped him found DOTmed in 1998.