by
Sean Ruck
, Contributing Editor | September 04, 2017
From the September 2017 issue of HealthCare Business News magazine
HealthCare Business News interviewed Dr. Steven N. Kalkanis, medical director, and Spencer C. Hoover, system vice president and executive director, of the Henry Ford Cancer Institute for this month's Hospital Spotlight.
HCB News: What inspired you to get into health care?
Spencer Hoover:
I joined the Army as an airborne infantry soldier after 9/11. During basic training, I received a Red Cross notice in the middle of the night that my wife had an emergency C-section. My son was born at 27 weeks gestation and 1 pound, 11 ounces. He was in the NICU for four months at University of Florida Health Shands Hospital. Later in my enlistment, my daughter was born at 24 weeks gestation and 14.5 ounces. She was also in the NICU for four months, at UNC Chapel Hill, UNC Medical Center. Both of these experiences allowed me to see the significant value and contributions to society that medical practitioners provide.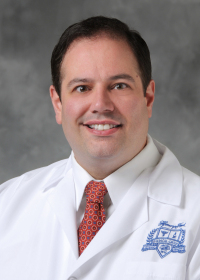 Steven Kalkanis:
My dad passed away from cancer when I was about 14, so I've always been motivated to do something along the lines of medicine. Later, in medical school, I saw a case of a young girl who had a tumor that was causing blindness. I was able to shadow a surgeon and be there after the operation where she woke up and was able to count her fingers and she was legally blind before that. It made quite an impression.
HCB News: How long has the planning process been for the Brigitte Harris Cancer Pavilion?
SH:
Initial discussions started over a decade ago. In 2015, our board of trustees voted to fund a significant system investment in cancer care. In 2016, Dr. Kalkanis and I were able to review the plans to ensure we were building a best-in-class cancer center in partnership with system leadership with a goal of creating a destination cancer center for the health system. After determining that several adjustments to the capital allocation were required to deliver on that vision, we worked with the board to ensure the capital allocation was appropriate. A catalyst that allowed us to reevaluate the nature and vision of the building was the $40 million gift package from Mort Harris in honor of his late wife Brigitte. The approved funding of $156 million for the project includes $23 million in infrastructure-related work, things like a skywalk and a parking deck that will be shared resources across the campus.