Russian Minister of Health visits proton center
by
Philip F. Jacobus
, CEO | October 25, 2017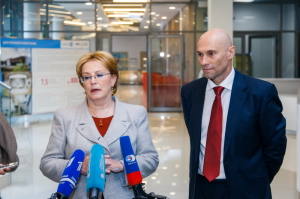 If you are old enough to remember Détante or even Ping-Pong Diplomacy, you know that frequently, health care has flown above politics.

I am proud to have played a small role in a proton center being established in St. Petersburg, Russia. It has been a long road from the time the equipment was purchased, the site was built and the equipment was installed.

With clinical commissioning right around the corner, the Russian Minister of Health, Veronika Skvortsova visited our center in St. Petersburg. Ms. Skvortsova is a Neurologist and is a 5th generation physician. In May of this year, she was elected president of the World Health Organization.

There is a lot of debate about proton therapy, I know. But I believe it is here to stay.
View all The Jacobus Report Blog Posts
---
About Phil Jacobus

Phil Jacobus has been involved in health care since 1977, when he visited China to sell equipment. He has done business in 35 countries and still travels extensively. Phil is active in charity, helps rural clinics and always tries to help DOTmed users when he can.
Phil is a member of AHRA, HFMA, AAMI and the Cryogenic Society of America. He has contributed to a number of magazines and journals and has addressed trade groups.
Phil's proudest achievement is that he has been happily married to his wife Barbara since 1989, who helped him found DOTmed in 1998.
You Must Be Logged In To Post A Comment
Registration is Free and Easy.
Enjoy the benefits of The World's Leading New & Used Medical Equipment Marketplace.
Register Now!