From the March 2018 issue of HealthCare Business News magazine
By Anthony Moretti and Diku Mandavia
Children are a special – and a very abundant – patient population. Consider, for example, the following facts concerning pediatric patients in the United States. In 2010, there were over 25.5 million emergency department (ED) visits nationwide for children younger than 18 years – representing one-fifth of total ED patient visits.
Data from a 2012 study show that approximately 450,000 children under 18 years of age are admitted for surgery as inpatients annually. And according to the Centers for Disease Control (CDC), in 2016, preterm birth affected about 1 of every 10 infants born in the United States.

Quest Imaging Solutions provides all major brands of surgical c-arms (new and refurbished) and carries a large inventory for purchase or rent. With over 20 years in the medical equipment business we can help you fulfill your equipment needs

Statistics like these tell us that whether it is in the ED, operating room (OR) or the neonatal intensive care unit (NICU), millions of infants, babies and children require diagnostic imaging procedures every year.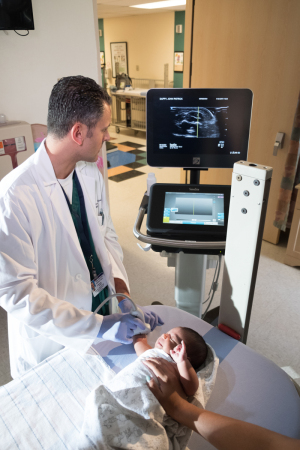 However, pediatric imaging poses several unique challenges – from safety concerns to patient comfort issues. Minimizing radiation dose exposure is a top priority when imaging children. So, too, is guarding against the spread of infection, especially in premature infants and very young children with weakened immune systems. Yet when an infant or child is moved out of a sterile environment such as the NICU or PICU and transported to the radiology department, it exposes that infant to the risk of infection. Finally, any procedure, including imaging exams, can be frightening for young children, which sometimes makes it difficult for physicians, nurses and technologists to expedite an imaging procedure as rapidly as possible.
Undoubtedly, diagnostic imaging has proven to be of significant value in pediatric medicine. When supported by technologies that address the unique challenges associated with pediatric imaging, today's clinical care teams have the opportunity to raise the bar in pediatric medicine, delivering speedier, accurate diagnoses and treatments to preemies, babies and children. This article explores several ways the pediatric team at Adventist Health White Memorial is utilizing state-of-the-art imaging tools to change lives and save lives.
Commitment to quality and community
Founded in 1913, Adventist Health White Memorial, a member of the Adventist Health System, is a 353-bed hospital serving the economically challenged communities of downtown and East Los Angeles. While 90 percent of our physicians are board-certified and the facility is ranked as one of the top 100 hospitals in the nation, hospital leadership is most proud of our culture of caring.