If the healthcare industry can standardize the adoption and implementation of simulation technologies, in addition to instituting regular assessment requirements, we might be able to catch up to aviation's impressive safety record. When high-stress, emergency situations arise, the public is trusting that both doctors and pilots are ready, and able, to keep them safe.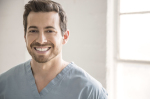 About the author: Justin Barad, M.D. is the co-founder and CEO of Osso VR, a clinically validated and award-winning surgical training platform. Dr. Barad is also an orthopaedic surgeon with a Bioengineering degree from UC Berkeley, and an M.D. from UCLA. He completed his residency at UCLA, and his fellowship was in pediatric orthopaedics at Harvard and Boston Children's Hospital. With a background in game development and a firsthand understanding of the challenges facing residents and experienced doctors, he co-founded Osso VR with a mission to democratize access to modern surgical techniques and improve patient safety. In addition, Dr. Barad has also written for Medgadget, a popular medical technology site, for more than a decade, and has spoken at multiple conferences including TEDMED, CES, Exponential Medicine, and Health 2.0.
Back to HCB News

Numed, a well established company in business since 1975 provides a wide range of service options including time & material service, PM only contracts, full service contracts, labor only contracts & system relocation. Call 800 96 Numed for more info.