by
Lauren Dubinsky
, Senior Reporter | September 24, 2018
From the September 2018 issue of HealthCare Business News magazine
In a 2014 study published in Diagnostic and Interventional Radiology, researchers had 10 patients undergo routine brain MR with a 3T system and 12-channel head coil. T1-weighted gradient echo and GE's Silent Scan's Silenz data acquisition method were performed, and patients were asked to rate the sound impression for both.
The researchers found that the mean noise level was significantly reduced with the Silenz sequence – 34.3 percent reduction in sound intensity and a 99.97 percent reduction in sound pressure. There was also no notable difference between Silenz sound levels and the background noise in the scanner room.

Special-Pricing Available on Medical Displays, Patient Monitors, Recorders, Printers, Media, Ultrasound Machines, and Cameras.This includes Top Brands such as SONY, BARCO, NDS, NEC, LG, EDAN, EIZO, ELO, FSN, PANASONIC, MITSUBISHI, OLYMPUS, & WIDE.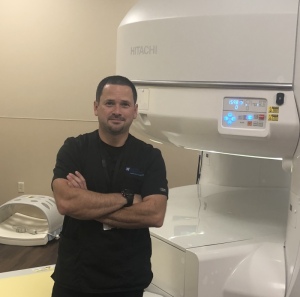 Many of the other OEMs also offer noise reduction technology — Canon Medical Systems' Pianissimo Zen technology reduces noise during the exam up to 99 percent. Siemens Healthineers has noise reduction technologies on all of its MAGNETOM MR scanners and also offers its Quiet Suite for neurology and orthopedic MR exams that reduces sound pressure up to 97 percent.
Philips Healthcare reduces noise up to 80 percent with its ComfortTone scan techniques, which are available for routine MR exams including brain, spine and musculoskeletal.
Don't cramp my style
The small space inside the MR scanner is also a major source of discomfort for patient. Even if a patient doesn't suffer from claustrophobia in a clinical sense, being submerged in an MR bore can still trigger those anxious, trapped feelings.
Alleviating claustrophobia, as well as meeting the needs of an increasingly larger patient population, led Lutheran Hospital of Indiana to install Hitachi Healthcare Americas' Oasis 1.2T open MR system.
"One in five people we deal with are claustrophobic and if you have an open offer, they are willing to go ahead and do it without needing sedation," said Nate Souther, MR coordinator at the hospital. "We got lots of positive feedback about patients being more comfortable in the magnet."
The Oasis, which they use for in-patient as well as out-patient cases, has improved hospital throughput and increased their capabilities for scans per day.
MR suite or fantasy world?
Audio and visual equipment can do a lot to alleviate the patient's anxiety but if a facility wants to go the extra mile, they can hire a company that turns the MR suites into a fantasy-themed room. With the right artwork and lighting, these rooms can create the illusion that the patient is at the beach or traveling through space.