by
Lauren Dubinsky
, Senior Reporter | September 21, 2018
From the September 2018 issue of HealthCare Business News magazine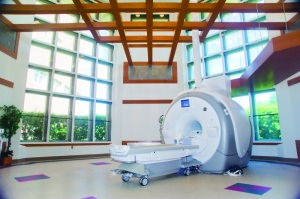 "Sometimes there isn't a foresight of planning between the end users to explain exactly what they want," said Michael Newman, vice president of operations at Universal Shielding, describing a worst case scenario. "The contractor lowballs the price and gives it out to the cheapest company, and the hospital is done a disservice because they are not getting a quality product."
In some cases, the facility will want to make changes after the MR suite is already built.

Special-Pricing Available on Medical Displays, Patient Monitors, Recorders, Printers, Media, Ultrasound Machines, and Cameras.This includes Top Brands such as SONY, BARCO, NDS, NEC, LG, EDAN, EIZO, ELO, FSN, PANASONIC, MITSUBISHI, OLYMPUS, & WIDE.

"We work with many customers that are frustrated or angry with the end result because they had not gotten involved in the process of design or specifying product selections," said Geiger.
He added that many times they have expressed that there wouldn't have been a problem if they had 10 to 15 minutes to discuss their requirements with the shielding company instead of leaving important decisions to the contractor and/or architect.
As expensive as construction of an RF shield may be, in the long run it's more expensive to have a low-quality shield start deteriorating ahead of schedule. Shielding experts agree, crunching the numbers and figuring out exactly what you're going to get for your money is the key to creating an MR suite that your facility is going to be satisfied with in the long-run.
Smarter ferromagnetic detectors
Although less permanent than RF shields, ferromagnetic detectors are imperative to ensuring a safe MR environment. These detectors ensure that metal objects don't get within range of the MR magnet, which can be a costly – and sometimes fatal – mistake.
The technology has been around for a long time, but in recent years it's become much more sophisticated. One area of weakness where progress has been made is with alert fatigue and developing systems that won't set off unnecessary alarms.
"Many of the doors in the MR room are somewhat ferromagnetic, so the act of opening a door could set off the detector," said Keith Kopp, president of Kopp Development. "We have software and hardware that basically suppresses that sort of thing."
The company's FerraAlert Halo II Plus detector system can also determine if something ferromagnetic is actually approaching the magnet room or just passing by it. For example, it ignores a gurney that is passing by the doorway, but if it turns and heads toward the doorway then the system will sound the alarm.