From the October 2018 issue of HealthCare Business News magazine
Point of Care Dose Management
Since its first site visit, the mobile lung unit has been providing critical screenings to underserved populations in North Carolina that have some of the highest lung cancer rates nationwide.
Many people within this area do not have access to reliable transportation, so bringing the screenings to them was one way to bridge the access gap. The mobile lung unit also offers the unique opportunity to educate rural healthcare providers about the importance of lung screenings, encouraging collaborative partnerships that will continue to grow in the future.

KA Imaging's Reveal 35C detector, currently available as an upgrade solution in the US and selected geographies, can now be sold in the European Union. The detector recently obtained the CE Mark. Contact us at sales@kaimaging.com to book a free demo.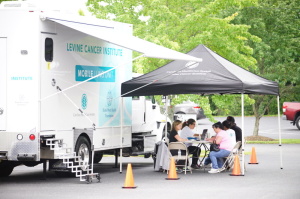 Having a device with protocols for dose management helps us to resolve patient concerns about the safety of the screening process. As providers, we face challenges due to health literacy and strive to keep our answers as simple as possible, reminding patients that the risk of a late-diagnosed lung disease and/or cancer is much greater than risks from very minimal exposure to radiation during the procedure.
Additionally, the mobile lung unit is equipped with a tablet where we store shared decision-making information that provides patients with helpful information. Prior to the procedure, patients view a short video that reinforces key risks and benefits associated with lung screening, along with information on smoking cessation and healthy lifestyle habits. The tablets also allow our staff to collect vital patient information, such as smoking history, occupation, and occupational exposure on a short survey. We're using this information to research how we can better serve the communities and people that we touch.
Mobile Lung Units: Future of Patient Care
Given the success rate of our mobile lung unit, we expect to see programs like ours expanding across the country. Already, we've received inquiries from facilities beginning the process of incorporating a mobile lung unit into their programs. Questions range from technological – how to make particular equipment and technology work on the road – to logistical – how we determine which locations to serve first.