by
Mai Hiraoka
, Media Relations Manager | February 27, 2019
From the January/February 2019 issue of HealthCare Business News magazine
The following are just some of the products and services on display at ECR 2019.

ALTA750™
Richardson Healthcare - Expo X5, Stand 538
The ALTA750™ is a form, fit and function replacement for the Toshiba/Canon Medical Systems CXB-750D/4A CT tube. It is certified on OEM platforms, including the Aquilion 4- through 64-slice and the PRIME (Gen. 1). To optimize and increase the life of your new ALTA750 tube, Richardson Healthcare includes a Heat Exchanger and new HV Cable Kit as a complete tube assembly. For a limited time, all first-time customers of our ALTA750 will receive a complete satisfaction, money-back guarantee for 90 days after installation.
Nexus DR Software
Varex Imaging - Expo X2, Stand 224
Nexus DR is advanced, digital X-ray image acquisition software designed to quickly and easily automate patient workflow and obtain higher quality images using less dose. Integrated with Varex 14x17 wireless cassette-sized detectors, Nexus DR provides a cost-effective and trouble-free solution that includes advanced image processing algorithms for optimal image quality and excellent reliability. Nexus DR is an efficient solution designed to provide fast and accurate diagnostic images with minimal user interaction.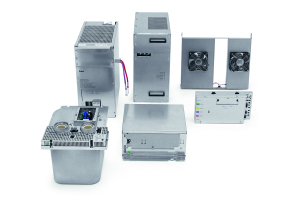 IG700 X-ray generator
Dunlee - Expo 2, Stand 212
Based on the most successful generator in interventional imaging, the IG700 X-ray generator delivers outstanding performance. Thermal modeling prevents tube overload by adjusting the energy supplied to the tube, and Dunlee's exclusive automatic tube calibration with every X-ray exposure lengthens tube life. In addition, the generator supports grid-controlled fluoroscopy, which enables high image quality while reducing X-ray dose. Designed for long life, the IG700 experiences downtime only once in 15 years, on average. Its modular architecture consists of six subunits for easy integration and serviceability, and built-in diagnostic tools allow remote diagnosis.
Dunlee DA200ULTRA CT Replacement tube
Dunlee - Expo 2, Stand 212
This OEM-equivalent, 6.3 MHU CT replacement tube can replace GE CT tubes which are installed in the BrightSpeed™*, Discovery ™*, Lightspeed™* and Optima™* CT scanners. Dunlee used knowledge gained through its long history in tube development to optimize this tube, resulting in excellent quality. In fact, Dunlee is so certain of the tube's reliability that it provides a 12 -month, full warranty. The Dunlee DA200ULTRA replacement tube is manufactured in the USA. *The products listed may be trademarks of the OEM. For the latest information regarding the compatibility of CT tubes and scanners, please refer to our cross-reference guide at dunlee.com
MCS-6074D CT Tube
Varex Imaging - Expo X2, Stand 224
New Varex MCS-6074D is designed as a replacement for the GE Performix 40 X-ray tube on the Optima CT660 CT scanner. Utilizing conventional bearings, the MCS-6074D comes with a 12 month or 6000 patient exam warranty. Replaces OEM part numbers D3187T, D3188T, 2137130-11, 2137130-2