Big ego vs. strong ego: Which is better?
by
Philip F. Jacobus
, CEO | March 13, 2019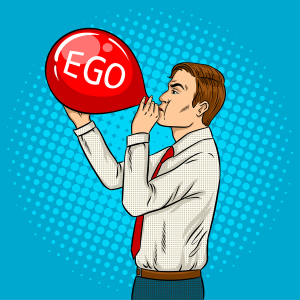 Everyday in business, we have to deal with people and frequently, we must deal with their egos. People could argue about the definition of big ego vs. strong ego and for that matter, even what it means. But just to make it easy, let's use the terms 'insecure' and 'confident'.

I suppose it is possible for someone to have confidence in themselves and believe that they can do the job, in some cases, better than anyone else. You have to wonder if the term, 'micromanager' applies. But in any event, I believe people who are confident in themselves have what I call, a strong ego.

They don't always have to win, they don't always have to take credit for the things their subordinates do, they don't always have to be the center of attention. They are confident enough in themselves that they are satisfied with a positive result.

On the contrary, in my opinion, the term 'big ego' is synonymous with 'insecure'. That person always has to be the center of attention. They have to put other people down. They cannot accept criticism or disagreement. And they want to take credit for everything good that happens and everything bad, blame on someone else.

Unfortunately, we all have to deal with these people from time to time. In a way, it is a pleasure to deal with someone who has a strong ego, just as it is a frustration to deal with someone that has a big one.

If success was easy, everyone could have it and we know it isn't. Sometimes, we have no choice but to deal with people who have a big ego and in fact, the stronger your ego, the easier it is to deal with them.

You can ask me what this has to do with healthcare and maybe the answer is, nothing. But it is a conversation I had with a fellow this week, whom I respect and I wanted to share it with you.

See you next week.
View all The Jacobus Report Blog Posts
---
About Phil Jacobus

Phil Jacobus has been involved in health care since 1977, when he visited China to sell equipment. He has done business in 35 countries and still travels extensively. Phil is active in charity, helps rural clinics and always tries to help DOTmed users when he can.
Phil is a member of AHRA, HFMA, AAMI and the Cryogenic Society of America. He has contributed to a number of magazines and journals and has addressed trade groups.
Phil's proudest achievement is that he has been happily married to his wife Barbara since 1989, who helped him found DOTmed in 1998.
You Must Be Logged In To Post A Comment
Registration is Free and Easy.
Enjoy the benefits of The World's Leading New & Used Medical Equipment Marketplace.
Register Now!