by
Lisa Chamoff
, Contributing Reporter | June 17, 2019
From the June 2019 issue of HealthCare Business News magazine
The system also delivers what the company says is the industry's fastest time-of-flight, with 214 picosecond temporal resolution, and an effective sensitivity of 100 cps/kBq, which cuts scan time to as few as three minutes per patient, reducing radiation exposure, cutting tracer costs and increasing throughput.
The system's motion management tools, OncoFreeze and CardioFreeze, help ensure that the smaller lesions can be visualized clearly, Karl said.

Quality remanufactured Certified Centrifuges at Great prices! Fully warranted and backed by a company you can trust! Call or click for a free quote today! www.Centrifugestore.com 800-457-7576

"The smaller the lesions, the more important it is to have reliable motion control," Karl said.
The system's FlowMotion Multiparametric Suite, in addition to the commonly used SUV, supplies metabolic glucose rates and distribution volume that is more specific to the patient, Karl said.
The scanner also features a 78-centimeter bore, larger than the standard 70 centimeters, which can increase patient comfort and make positioning easier, especially when used for radiation therapy planning, according to the company.
At last June's SNMMI annual meeting, Siemens announced FDA clearance of its syngo.via VB30 molecular imaging software. The software features advanced clinical capabilities for PET/CT imaging in oncology and neurology, including automatic calculation of a patient's Deauville score, used for staging and evaluation of therapeutic response in patients with Hodgkin's lymphoma and most types of non-Hodgkin's lymphoma. Normally, the Deauville score is calculated manually, Karl said.
The software also provides a workflow that enables clinicians to read parametric PET images more easily, Karl said,
And for neurological imaging, the software allows for quantitative analysis via databases when evaluating diseases such as Parkinson's, epilepsy and dementia.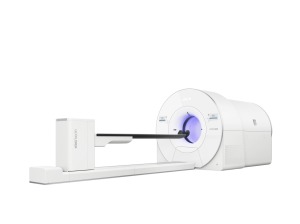 United Imaging Healthcare
This Shanghai-based imaging company received FDA clearance at the beginning of the year for its uEXPLORER total-body PET/CT scanner. Whereas other scanners have been able to perform whole body imaging, this is the first scanner that can do a 3D full-body scan in one image capture.
The first two systems are being installed in China and the U.S., where the company is establishing a 100,000-square-foot manufacturing facility in Houston.