by
Mai Hiraoka
, Media Relations Manager | June 22, 2019
From the June 2019 issue of HealthCare Business News magazine
The following are just some of the products and services on display at SNMMI 2019.

Lead Lined Laboratory Furniture
MarShield - Booth 454
MarShield manufactures a wide range of Standard or Custom Designed Lead Lined Laboratory Furniture suitable for Nuclear Medicine or Radiochemistry laboratories. MarShield has worked extensively with architects, engineers, contractors and end-users like doctors, hospitals, laboratories, and medical and veterinary clinics to ensure that our designs are functional and harmonious with their surroundings while meeting radiation code requirements. Please refer to our Cabinet/Furniture quotation and information guidelines at MarShield.com to design one for yourself today!

Quality remanufactured Certified Centrifuges at Great prices! Fully warranted and backed by a company you can trust! Call or click for a free quote today! www.Centrifugestore.com 800-457-7576

#1 Biograph Vision
Siemens Healthineers - Booth 753
See a whole new world of precision, where three-minute whole-body PET/CT imaging and the industry's fastest time-of-flight1,2 and highest effective sensitivity are possible. A major leap forward in PET/CT technology, the Biograph Vision™ helps to reduce scan time to improve patient throughput, decrease patient radiation exposure, and limit tracer cost. Its large 78-cm bore can reduce patient anxiety and make patient positioning easier, particularly for bariatric or radiotherapy cases. And, the system can fit into any room that houses a Biograph mCT system, without the need for costly renovations.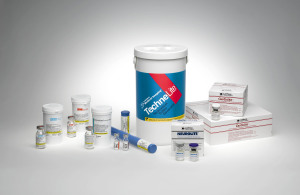 Nuclear Medicine Family of Products
Lantheus Medical Imaging, Inc. - Booth 722
Lantheus (lantheus.com) is a global leader in the development, manufacture and commercialization of innovative diagnostic imaging agents and products. Our nuclear medicine products assist physicians with bringing physiology and function to light on the pathway of patient care. Please visit us at the SNMMI 2019 Annual Meeting to learn more about our suite of nuclear medicine products, including TechneLite® (Technetium Tc 99m Generator), Xenon 133 (Xenon Xe 133 Gas), NEUROLITE® (Kit for the Preparation of Technetium Tc99m Bicisate for Injection), and QUADRAMET® (Samarium Sm 153 Lexidronam Injection).
Back to HCB News