When tested, the algorithm predicted the development of breast cancer in 87 percent of cases it analyzed and correctly interpreted 77 percent of non-cancerous cases. It then was used to analyze 71 different cases that were initially determined to be non-malignant by radiologists but ended up being diagnosed as breast cancer within the year. It correctly identified breast cancer in 48 percent of individuals out of the 71 cases, whom IBM says would not be diagnosed otherwise, and obtained an area under the receiver operating characteristic curve (AUC) of 0.91, and specificity of 77.3 percent at a sensitivity of 87 percent.
"In terms of expanding our research, we do know that cancer detection and differential diagnosis of cancer (i.e., detecting not only the presence of cancer but which type of cancer is present, and its likelihood to becoming metastatic and aggressive) is a challenging, open question. We would like to ultimately extend our algorithms to combine not only clinical history and medical images but also digital pathology images and potentially genomic data. This could test the promise of AI techniques to not only detect cancer early, but also to shed some light on the specific prognosis of the disease. If accurate, this type of technology could lay the foundation for systems that could assist in saving more lives, while also reducing the issue of over-treatment."
Story Continues Below Advertisement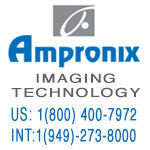 Special-Pricing Available on Medical Displays, Patient Monitors, Recorders, Printers, Media, Ultrasound Machines, and Cameras.This includes Top Brands such as SONY, BARCO, NDS, NEC, LG, EDAN, EIZO, ELO, FSN, PANASONIC, MITSUBISHI, OLYMPUS, & WIDE.

Images were collected from IBM research partners, Maccabi Health Services and Assuta Medical Center.
The findings were published in the journal,
Radiology
.
Back to HCB News