Dr. Willis hopes that his team's research will make people more aware of the fact that some patients are at risk of over treatment. "I think it will make people more mindful of following recommended guidelines with all patients so that we can give each patient the most effective treatment and get the best outcomes possible," he says.
Article reference: Ambria S. Moten, Huaqing Zhao, Alliric I. Willis, "The overuse of radioactive iodine in low-risk papillary thyroid cancer patients," Surgical Oncology, https://doi.org/10.1016/j.suronc.2019.05.011, 2019.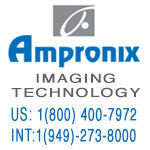 Special-Pricing Available on Medical Displays, Patient Monitors, Recorders, Printers, Media, Ultrasound Machines, and Cameras.This includes Top Brands such as SONY, BARCO, NDS, NEC, LG, EDAN, EIZO, ELO, FSN, PANASONIC, MITSUBISHI, OLYMPUS, & WIDE.

Back to HCB News