Chicago, IL, July 17, 2019 - Paragon Biosciences LLC — the Chicago-based life science innovator that invests in, builds, and advises bioscience companies — is announcing the launch of its seventh portfolio company, Qlarity Imaging LLC, which was founded to harness the value of artificial intelligence (AI) to improve medical outcomes.
Qlarity Imaging will further develop QuantX, the first-ever FDA-cleared computer-aided breast cancer diagnosis system in radiology. Qlarity plans to expand the diagnostic applications of its AI technology to additional image modalities and medical conditions, with the goal of improving patient care while lowering costs for hospitals and payers.
Qlarity Imaging acquired QuantX, the medical imaging AI system with intuitive displays, advanced analytics, and machine learning, initially developed at the University of Chicago based on research led by Dr. Maryellen L. Giger, and incubated at Quantitative Insights, a startup that had been launched with the support of the University of Chicago's Polsky Center for Entrepreneurship and Innovation. A clinical study demonstrated the effectiveness of QuantX at helping radiologists interpret cancerous and non-cancerous breast lesions, leading to a 39% reduction in missed breast cancers without a reduction in specificity, as well as a 20% overall diagnostic improvement. The study led to the FDA clearance of the AI technology for breast cancer.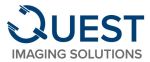 KenQuest provides all major brands of surgical c-arms (new and refurbished) and carries a large inventory for purchase or rent. With over 20 years in the medical equipment business we can help you fulfill your equipment needs

"By driving innovation across life sciences, Paragon fulfills its mission of improving outcomes for patients with severe medical conditions. So, we're pleased to help further develop the first FDA-cleared, artificial intelligence-enabled diagnostic software for breast cancer MRIs," said Paragon Biosciences Chairman and CEO Jeff Aronin. "We are entering an exciting time where advances in supercomputing and machine learning make it possible for artificial intelligence to deliver on its promise for drug discovery, drug development, and diagnostics."
As a leader in innovating and building life science companies, Paragon's capabilities and investment in Qlarity Imaging provide the company with the working capital needed to further develop and implement its computer-aided diagnosis system and explore expanded uses of AI-enabled diagnostic tools. Paragon Biosciences advises its portfolio companies on how to leverage AI technology to enhance the diagnostic insight of medical devices, accelerate the pace of drug development, and increase the efficacy of novel therapies.