by
Philip F. Jacobus
, CEO | September 11, 2019
The 15th annual European IAMERS meeting is almost underway in Madrid.
The meeting starts tomorrow but Barbara and I showed up on Wednesday and attended the customary pre-meeting dinner at the Westin Palace, which is where the meeting will take place.
Diana Upton is a great organizer and never disappoints. This year is shaping up to be no exception. I visited with a lot of people during the cocktail hour and after the dinner. As in the past, the event was first class.
Altogether, I counted around 90 people and while most were from Europe, the USA was also well represented.
Diana introduced me to Borja Ribed who will be the keynote speaker. Dr. Ribed is the CEO of
APR Salud
, a 20-year-old independent service company based in Spain. During his presentation he will be discussing the healthcare market in Spain, where it has been and where it is going.
I visited only briefly with him but after our short exchange I am looking forward to his remarks. You can see a photo of Diana and Borja in the top right corner.
Sebastian Cienki with Varex, Christian Frandsen with Agito and Stephen Glasgow from Multi-Medix will also speak at the event.
I will take this opportunity to share some other pictures of old friends. Here is one of Mehdi Small, Rafal Pizon and myself:
Here's one of Rob Kerwin and Don Bogutski:
And last and most important, here is one of Ruth Stopak, Barbara Fahringer and Janice Kerwin: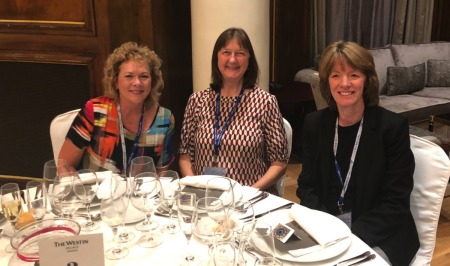 So far the meeting is looking great. Next year we will convene in Strasbourg... will I see you there?
Phil is a member of AHRA, HFMA, AAMI and the Cryogenic Society of America. He has contributed to a number of magazines and journals and has addressed trade groups.
Phil's proudest achievement is that he has been happily married to his wife Barbara since 1989, who helped him found DOTmed in 1998.