by
Lisa Chamoff
, Contributing Reporter | September 16, 2019
Siemens Healthineers unveiled two CT scanners designed to address challenges in radiation therapy treatment planning at the ASTRO annual meeting in Chicago this week.
Both systems — the 64-slice SOMATOM go.Sim and the 128-slice SOMATOM go.Open Pro — are designed with a mobile, tablet-based workflow, use artificial intelligence (AI) for contouring and help overcome inconsistencies between therapy systems from different vendors.
One of the highlights of the new systems is integration of the lasers that mark the location of the lesions on the patient, called DirectLasers, into the 85-centimeter-bore scanners, making manual data transfers unnecessary and reducing the likelihood of errors, said Martin Tasler, head of global product marketing for radiation oncology at Siemens Healthineers.

Quest Imaging Solutions provides all major brands of surgical c-arms (new and refurbished) and carries a large inventory for purchase or rent. With over 20 years in the medical equipment business we can help you fulfill your equipment needs

"The worst thing of course is that you treat the patient, but in the wrong spot," Tasler told HCB News.
The scanners also feature a technology called DirectORGANS to reconstruct and optimize the CT images and contour organs at risk using an AI contouring algorithm.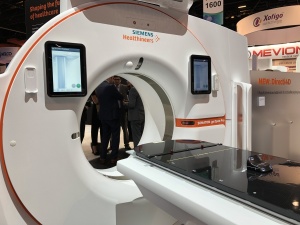 The SOMATOM go.Open Pro, which is designed for research institutions, also comes with a brand-new technology that acquires 4D images and adapts the image acquisition to a patient's breathing during the scan, leading to a more precise treatment plan. Siemens co-developed the technology with the University of Hamburg in Germany.
"If the patient changes the breathing pattern during the acquisition, then you get a data set that will not allow an artifact-free reconstruction of 4D images," Tasler said. "Now, the scanner keeps monitoring the respiration during the acquisition, and it can automatically modify the acquisition pattern to adapt it to the change in respiration pattern, and so the robustness of this approach is much higher."
Additionally, the scanner workflow is controlled by a tablet that allows the clinician to remain with the patient before the scan, reducing anxiety.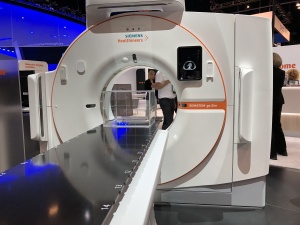 "We have four clinical sites in Europe using the system and we get very good feedback, that patients feel much better, much safer," Tasler said. "Less anxiety also contributes to better scan results."
The scanners also incorporate small changes based on feedback received during more than 300 interviews and workshops with customers around the world. For example, facilities use different linear accelerators from different vendors, which come with different indexing systems. To address these inconsistencies, the CT table references the indexing systems from the various vendors.
Both the SOMATOM go.Sim and SOMATOM go.Open Pro are 510(k) pending.