One in three adults does not fully understand cancer treatment side effects
by
John R. Fischer
, Senior Reporter | November 27, 2019
Rad Oncology
Operating Room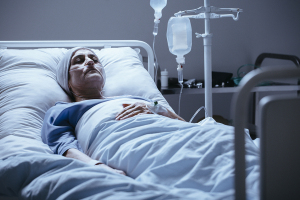 One in three adults does not fully understand the extent of cancer treatment side effects, according to a survey conducted by the American Society for Radiation Oncology.

More than 400 U.S. adults discussed in the national review their experiences undergoing radiation therapy, chemotherapy and surgery, with approximately one-third experiencing side effects that they wished they had more information on prior to treatment. Roughly one in five felt they needed to know more about possible side effects before undergoing radiotherapy (18 percent); surgery (20 percent); and chemotherapy (26 percent).

"An unfortunate reality of cancer treatment is that therapy also has side effects that can impact a patient's quality of life. Nearly all patients in the survey felt confident about their treatment decisions, but a sizable number also expressed a clear need for more information about potential side effects," Dr. Reshma Jagsi, FASTRO, senior author of the study and the Newman Family Professor of Radiation Oncology at the University of Michigan, said in a statement.

The survey specifically focused on and compared experiences of radiation therapy-related side effects to those of other cancer treatments. Patients who reported severe side effects tended to not know enough about them, with more than a third saying they felt uninformed, compared to four percent who experienced minimal side effects.

Of the respondents, 37 percent reported wanting more information on side effects related to radiation therapy, particularly skin irritation, gastrointestinal symptoms and fatigue. Thirty-six percent said the same for chemotherapy, wishing they knew more about nerve damage, GI symptoms and fatigue side effects. Thirty-four percent who underwent surgery wished for more information on pain, nerve damage and numbness.

Those who underwent radiation therapy said their experiences were generally in line with their expectations, though 29 percent reported feeling more tired than expected. Twenty-eight percent felt weaker and 31 percent experienced worse changes to their energy levels than anticipated. The side effects most were concerned with prior to treatment were tiredness (56 percent), feeling weak (50 percent) and skin burning (46 percent). More than two-thirds (68 percent) expected their radiation oncologist to have the same or more cancer knowledge as the other oncologists on their treatment team.

Side effects rose in radiation therapy patients who received systemic/drug therapy and/or surgery. Those who received all three treatments were more likely to feel greater fatigue, weakness and pain than those treated with just radiation therapy. On a scale from zero to one hundred, the average ratings for severity were 45 for radiation therapy side effects, 47 for surgical, and 63 for chemotherapy.

You Must Be Logged In To Post A Comment
Registration is Free and Easy.
Enjoy the benefits of The World's Leading New & Used Medical Equipment Marketplace.
Register Now!