How much of the $2 trillion will you cover? What about your kids?
by
Philip F. Jacobus
, CEO | March 25, 2020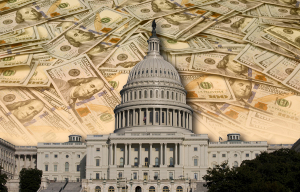 I'm glad that the government got together to come up with this stimulus program to help people. I'm more interested in helping the average Jack and Jill on the street than I am big companies, but I understand that helping big companies will hopefully also help Jack and Jill.

I can't help but wonder how we're going to pay for this. How long is it going to take and where's the money going to come from?

The average taxpayer has to foot the bill now and in the future. But how long into the future? $2 trillion is a lot of money.

Another thing that pops into my mind is that an ounce of prevention is worth a pound of cure. I don't want to talk politics but there are so many things we did wrong here.

Our supply chain relies too heavily on China. We don't have proper stock in the case of an emergency. Healthcare hasn't been a priority for funding. In the same way infrastructure hasn't been a priority. Our politicians both Democratic and Republican have allowed us to get caught with our pants down. And on top of everything else we ignored all of the warning signs, so now we're going to add the deaths of thousands of people into the equation.

I hope we learn from the situation. I'm sorry to say that I doubt we will, but I hope I'm wrong.

Don't get me wrong, I recognize it's necessary but I still ask: how are we going to pay for it?

View all The Jacobus Report Blog Posts
---
About Phil Jacobus

Phil Jacobus has been involved in health care since 1977, when he visited China to sell equipment. He has done business in 35 countries and still travels extensively. Phil is active in charity, helps rural clinics and always tries to help DOTmed users when he can.
Phil is a member of AHRA, HFMA, AAMI and the Cryogenic Society of America. He has contributed to a number of magazines and journals and has addressed trade groups.
Phil's proudest achievement is that he has been happily married to his wife Barbara since 1989, who helped him found DOTmed in 1998.
You Must Be Logged In To Post A Comment
Registration is Free and Easy.
Enjoy the benefits of The World's Leading New & Used Medical Equipment Marketplace.
Register Now!