by
Lisa Chamoff
, Contributing Reporter | June 15, 2020
From the May 2020 issue of HealthCare Business News magazine
The first prototype of the product, the combination of a head coil with a PET ring wrapped around it, is going to be tested in a hospital in China, with the second prototype coming to Canada in the fall of this year.
There is interest in using the product for research in a variety of application areas including neurodegenerative diseases, brain cancer, epilepsy and infectious disease research, said Dr. James Schellenberg, founder and chief executive officer of Cubresa.

Quality remanufactured Certified Centrifuges at Great prices! Fully warranted and backed by a company you can trust! Call or click for a free quote today! www.Centrifugestore.com 800-457-7576

"However, we believe the key market for the BrainPET will be in the detection and treatment of Alzheimer's disease ," Schellenberg said.
NuPET, the company's preclinical PET insert, has received interest from level 3 biosafety labs looking to research infectious diseases, such as COVID-19, Schellenberg said.
"I think there will be increased interest in imaging infectious diseases," Schellenberg said. "NuPET can play an important role as it is useful for understanding the pathogenesis of viruses, and how vaccines and antivirals respond in animal models."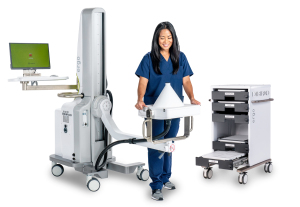 Digirad
In the fourth quarter of 2019, Digirad released a new model of its portable Ergo Imaging System for general nuclear medicine.
The Ergo system used to have a laptop on a separate cart, while everything is integrated on the new product.
"The feedback we received from customers was that it would be easier to use if it were all-in-one," said Martin Shirley, president of diagnostic services at Digirad. "So we took the components of a desktop computer and put it into the chassis of the Ergo system."
The system also comes with a stationary camera for doing planar studies and replaces a lead acid battery with a lithium battery that provides two hours of standby time and one hour of performance, versus about 30 minutes of standby on the old system.
"With most bedside scans there are 30 minutes of actual imaging," Shirley said. "You can still plug in if you want to, but now you don't have to."
The company also upgraded its Cardius XPO Series of scanners – Cardius 2 XPO, the mobile Cardius 2M XPO and the Cardius 3 XPO, which comes with a third detector to reduce dose and imaging time – removing an umbilical connection to a cart to create one device with an integrated computer.