by
Lisa Chamoff
, Contributing Reporter | June 15, 2020
From the May 2020 issue of HealthCare Business News magazine
The company's development team has come up with a solution called "MRD switching" that achieves a fully 3D acquisition workflow by using the SCINTRON acquisition hardware and software to avoid meeting or exceeding the limitations of the ECAT PET scanner family, Kühl said. The solution adapts the maximum ring distance (MRD) parameter of the scanner during the acquisition.
"It is still important to consider patient dose, but by having the software option to switch the MRD, other protocol concerns are avoided," Kühl said.

Quality remanufactured Certified Centrifuges at Great prices! Fully warranted and backed by a company you can trust! Call or click for a free quote today! www.Centrifugestore.com 800-457-7576

MiE offers iterative reconstruction for 2D and 3D PET myocardial examinations. For customers wanting to perform simultaneous 3D flow and perfusion, the latest reconstruction speed-up upgrade is recommended to have a more efficient workflow, Kühl said. It also is helpful for customers using the ECAT HR+ system for perfusion imaging, since there are more lines of response that need to be considered during reconstruction.
MILabs
The company continues to develop its VECTor6 Broadband Photon Tomography preclinical imaging platform, working with clinical partners to test new applications of the technology, which has the capability to do simultaneous and quantitative imaging of co-injected PET tracers and multiple PET/SPECT tracers.
At Oxford University, for example, clinicians have used the platform to develop a method to very accurately view the uptake in tumor cells, versus the surrounding tissue.
"By imaging two tracers simultaneous one can measure the specific uptake in tumor cells," said Frederik Beekman, chief executive officer of MILabs. "We see more interesting applications of PET/SPECT imaging for treating tumors."
There is also the potential to use the system to develop a new generation of radiopharmaceuticals for the growing field of theranostics.
"A lot of our clients did first publications to show that this really works," Beekman said.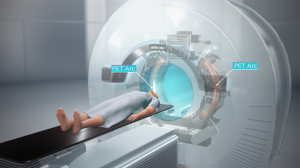 RefleXion Medical
RefleXion Medical continues to develop its biology-guided radiotherapy (BgRT) system, which uses emissions from PET signals to guide therapy in real time.
The company is aiming to file for FDA clearance on the BgRT next year and is working with clinical partners to explore the use of PET and fan-beam CT, combined with a linear accelerator, as a treatment device for Stage 4 patients and those with metastatic disease.